Imola at Martlesham Heath 10K
Sunday October 14th, 2007
What a glorious day!
I had exchanged a few emails with Imola and she told me that she was observing the weather forecast obsessively.

When I responded that I would do a weather dance, praying for blue sky, silky air and a few white clouds I was kidding, of course.

Or was I?

I would call that a success!

And in the end she was complaining that it was too warm - well, I have to admit: I was very happy not having to run. It WAS hot!
The atmosphere was great. The course started at Martlesham Heath village green and was laid out over 4 laps of 2.5 kilometres.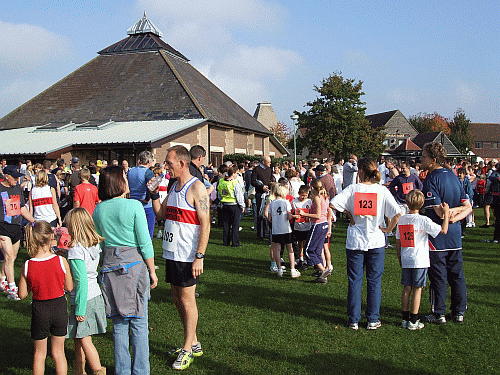 It is called Marthlesham Heath 10K, but there is a 'Fun Run' of just one lap starting at the same time. So there were a lot of kids and 'normal' people like you and me running as well.

11 o'clock - runners are gathering, and off they go!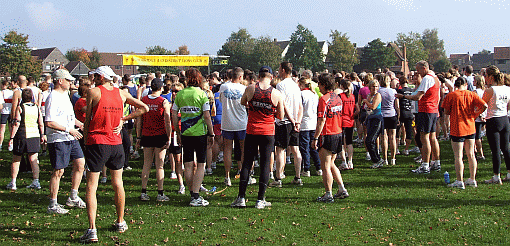 I couldn't find Imola as I went there as a surprise - what almost backfired! When she saw me during the run she got completely distracted and started talking. Whoops!

But I found her family.

The little ones always a bit shy at the beginning. You already know them from the Afternoon Tea. Peter is the one with the crush on Beibei.

And then I learned that Imola had done the race before in 1 hour and 2 minutes and that this time she wanted to beat the 1 hour.

From the Internet I learned that between runners this race is known as very fast and I recognised some faces I know from my gym - and they do run fast.

And then she came round after the first lap!
Looking good and going strong!

.... and apparently looking for her family who was waiting in the play area of the pub right around the corner...

Focus Imola, focus!

And off she went into the second lap.

Still looking good and running fast - so fast, that in lap 3 I missed her passing.
Then we already had to get to the finishing line to see her coming in! And again she came in so fast that I couldn't get her picture taken.

7! Minutes better

than the last time.

This Lady is on fire!

55 Minutes!

Happily posing for hubby...

... and a 'Hello' to you!

Hi Imola,

We are looking forward to seeing you

at your next race!

Keep it Running, Girl!

Short Stories
Lisa - Lady on Fire
Jori - Towering Tall
... waiting for your stories


Long Stories
---
Imola's Passion
From Determination to Passion
Imola: MH 10K, 07
---
---
... waiting for your stories