Photo Shoot - July 2009
Oh my goodness, there I was! Standing on my toes on the tip of these cliff like boulders, piled up to defend the Felixstowe coastline, with nothing on than a bikini, nothing below than the river Deben and nothing above than the sky.

A faint, friendly voice from far below kept directing me: Turn a bit more, I need the sun on the front, and now flex, 'Everything', relax the face, can you reach a bit more? … and now give me something else, please!

Something else, … hmmm? I am a crap poser; without a mirror I don't have a clue how I look like, and all I could think of was not to lose the balance and that the sun was blinding my eyes to tears.
Only an hour ago I had picked up ChrisW at the railway station; a very kind Englishman with a passion for photography. He is shooting on film and black&white – well, that alone was an incentive to agree to a shoot. This breed of photographers who are not planning their pictures with picture publisher in mind has become rare, at least in the circles I am mixing with.
Although I was not entirely happy with my shape – the usual leg obsession – I made the appointment. In several emails I had built him the golden bridge to get out of it, but he would not budge an inch.

Good! A man with principles!

I had been browsing the area for suitable locations and had found two, one of them being Felixstowe beach close to the ferry.

This is the same place where I had been with Babul two years ago, but this time we needed clean rock that would look good on black&white, meaning rock that stays above the water line, meaning this rock on which I was standing on, something like 5m high up but feeling like 15.
What an experience! I had thought the legs and I not being able to pose properly would be the embarrassing problems in regard to deliver some good photos. Now I had a new one: Keeping the balance!
Up there looking into the sky there is no point of reference for the eye and while I was flexing and reaching, I slightly tilted over, or was I? This is a really weird feeling and I appreciate Chris' patience to wait until I had collected myself again. One thing is for sure: These darn legs were the least of my concerns during the whole shoot.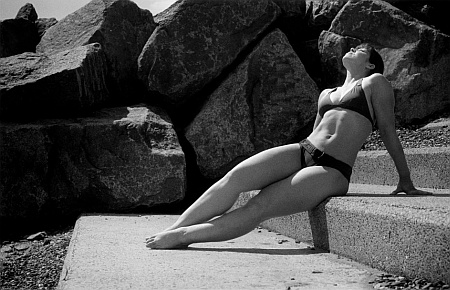 Another thing that I didn't take into account was the fact that we needed the sun in order to get good contrast. In a way I got so lucky; it was the first day of my holidays and it was the first day of the year with proper beach weather. Sun, beach, water, bikini – holiday bliss… and in my excitement me silly forgot to put sunscreen on. What a lovely lobster coloured reminder I had for the next few days.
Sorry Chris, I just had to crop the legs off this time. The girls have seen enough!

So on we went shooting roll after roll and having a really good time.

I learned a lot about from where the light needs to come and other things, and then we decided to take it to the other location; a little hill with funny flag like poles – a bit surreal, hence we liked it. The timing couldn't have been better.

While at the beach the sun had been bright with just a few fluffy clouds for decoration. Now the clouds had become more dramatic. That meant we had to be quick and ready for the moments when the sun came out, but for this locations the sky looked just great.

Mid afternoon Chris had to catch his train back and on arrival at the station it started to rain. Did we get lucky or what?
Coming home still buzzing from an exciting day I was sinking in my armchair with a cappuccino … and fainted into sleep. Oh my goodness was I knackered, and the next day I knew why: I had the worst muscle ache that I ever had in all my life! The third thing that I didn't anticipate was the fact that flexing basically means working out. Chris had exposed seven roles which are worth about 200 or so pictures and I had been climbing, flexing and carrying dumbbells for several hours.
Well, and then a few weeks later I first got the contact sheets and then the pictures I had chosen, and here I am: Proud that I did it and that thanks to a great photographer some are actually quite decent.
As you can see that my leg issues got confirmed, so I have a good incentive now to tackle those head on. I still have to get the hang of my posing and from the not so good pictures I can learn a lot. I found that since I have seen those pictures my posture has improved altogether; I am holding my head higher; I remember to relax the shoulders more often and I try to keep the pelvis at a better tilt than I usually do. To improve my balance I am doing my stretching routine more often and will extend it towards keeping the balance a bit more, and I surely will remember to take sun-block to the next photo shoot.
Thanks Chris! You gave me a wonderful opportunity and wouldn't want to have missed it for the world. I hope we can do it again some time!

Short Stories
Lisa - Lady on Fire
Jori - Towering Tall
... waiting for your stories


Long Stories
---
---
---
... waiting for your stories