My Magic Aloe Vera


I am usually not a herbal, tea bag kind of person. But there are some herbs and plants which got me convinced and one of them is:
Aloe Vera!
I came across that stuff about four years ago on a bus trip on Fuerteventura. I liked the passion with which these people attend to the fields and how they produce the best of products.
What I am telling you here is just my own opinion and from my own experience. I have been reading a bit and quite often it is said that there are no statistics proving that it is working. Well, I can't promise you anything, and please don't take any of this as medical advice. You will have to decide for yourselves if this could be something for you, but the Aloe Gel definitely works for me in regard to everything hair and skin.
And I am using it for cuts, sunburn and mosquito bites. It can be put on open wounds and helps soothing the itch, avoiding infection and makes it heal better. Apparently one of the active ingredients is a chemical that is close to what kids still have in their body to make them heal and recover better. Gosh, how often did I have my knees bruised and cut from falling with my roller skates. That was never a big deal. And these days it takes ages to heal a little prick from trimming a rose bush.
The Aloe Painkiller (Ultra) is wonderful for sore muscles after exercise and I use it to soften muscles and joints before I work out as well.

How I use it for Skin


Oh my, there is no denying it. Age and gravity are taking their toll, and losing weight doesn't help either, leaving me with a lot of loose skin creating some kind of a bull dog face with drooping eyelids and sagging cheeks.
I tried these creamy collagen fillers, but this is not what I need. I don't want to have plumped up again what I just lost. I spent a fortune on eye creams until, many years ago, I saw a documentary on the telly about cosmetic surgery in which the surgeon explained that eye creams were bringing him good business, because they are too heavy for the delicate skin, helping create eye bags. Well it's only hearsay, and looking at all these websites advertising that they are a 'must' these days I'm not the person to advise on that, but I was definitely put off that stuff.
So what I want is something that helps my skin to keep the elasticity and to shrink as I am losing fatty tissue.
Skin is an incredible material, and due to my losing fat by choosing a sensible but not too low calorie diet while exercising, it has shrunk back nicely already. The face is a bit of a problem, though. The muscles don't get really exercised, do they? Especially when one is staring at a computer screen all day.
Since half a year I am using pure Aloe Vera Gel from Pro Aloe Marketing now and I swear:
It works!
I will not look like an 18 year old again and the changes may not be mind boggling. But using it morning and evenings on the cleaned skin, around the eyes, the lips, the neck and the grumpy wrinkles of the forehead has at least slowed the process down.
July 2007 - Test shoot with Babul

Ok, here the camera and light were better than in the photo to the right, revealing more. I used a bit of mascara but no make-up. At that time I was not using Aloe Vera, but the same day and night cream that I am using now.

February 2009 - self

I tried to recreate the photo to the left just now with my little pocket camera. I am not wearing any mascara or make-up, just the same lip gloss as on the other picture. And although the angle of the head is a bit different I wouldn't say that I have gone downhill a lot.
After that photo shoot with Babul I had a phase during which I gained a bit of weight and when I lost that, I felt very floppy. That was when I started to use Aloe Vera, and now after half a year the effect is starting to kick in.
In both pictures the two scars which I got from our little pet dog by falling onto him as a child are clearly visible, but the lip line is actually really rather defined in the newer one.
I guess the effect is hard to study because it has to be a highly concentrated product and it has to be applied regularly, continuously.
I gently tap in the gel and hold the face for a moment in the place where one would wish it could be again. Then I apply my usual moisturising cream, carefully avoiding the eye area.
And as for puffy eyes: Avoid the salt, sleep a lot (ha ha), take off glasses once in a while and properly treat any sinus infection.

How I use it for hair


Everybody with thin, greasy, long, coloured hair will instantly understand my dilemma. Although I only have highlights the hair is rather frizzy at the ends and after washing them there is no way they I can comb. After a shower I have a wet felt pad sticking to my head.
Usually I would use a conditioner, which works fine for the combing bit, but re-greases my hair instantly. So by the time I'm finished I could start all over again.

I once made an experiment using Aloe Vera on one side and a stay in, spray on conditioner on the other. And the Aloe actually worked better.

I rub my palms with a few good portions of Aloe Vera gel and pat it on the hair. Then a bit gets massaged into the scalp as well. Since I am doing that I am losing much less hair.

I am combing by holding big strands using a wide comb, and where there is still a bit of reluctance I add a bit of the gel. I can even blow dry head over - much quicker and more volume.
Then I just get some round brushes to straighten the ends and to get a bit of a bend.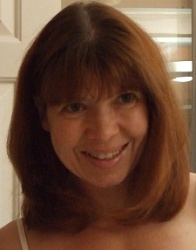 Not perfect for an evening out, but given that this is the result of just a few minutes or so without being fussy about strand size or using styling foam ...
... not too bad, eh?