Fuerteventura – Shopping at Esquinzo/Jandia/Morro

It's not a really nice holiday without a really nice shopping experience, is it? And my mum as an experienced South Fuerteventura traveller led me to a few gems in the area.


---


Around Esquinzo Playa one wouldn't expect too many opportunities as it is mainly hotels, club resorts and apartment blocks.

However, there is a boutique called 'La Ola'; safely tucked away in a residential area, but clearly recognisable by the lovely scarfs leading the way during opening hours.

Boutique 'La Ola'
Residencial Monte del Mar Nr.34
35626 Esquinzo/Jandia


We English would feel at home immediately. It's tiny with the nicely dressed up loo doubling as fitting room.
The owner - Christine - is German and has a lovely range of unusual goods on offer.

I knew that I had a few kilos of free space in my luggage and thus couldn't resist the temptation.

I loved that outfit,
but that is not my colour.
So I got me one in coper!
She has little gifts like purses, belts and bags to ornamental masks, bikinis, clothes, jewellery and some clothes for kids as well.

Well, and there was a little black dress hanging on display – one of those that is still missing from my wardrobe.
| | | |
| --- | --- | --- |
| Due to small waist and big bum, dresses are a bit of a nightmare for me, so I fell in love when I saw it but didn't consider it at all. | | |
My focus was on the weirdest of all trousers.
Have you ever heard of wrap trousers? I got some with a matching scarf and they are brilliant. They fit every shape and they look great. I will have to show you how to put them on in a movie – no way that I can explain how to put them on just with words. Only hiccup may be that going to the loo is not that straight forward.
Is it just me, or does the camera pile some pounds on?
Well, might be the club-sweets showing ...
On my way out I realised that the dress was stretch… and a size 8… and only €30 (£20). I guess you know me well enough to already know that I mulled it over one night and then of course went back to try it on. Now I HAVE to get my legs in order… It's a perfect fit, but it would be even more perfect with slimmer ankles. Well, that's an incentive!

Back to Top
---

Walk to Jandia Playa - Shopping Promenade
The next day we walked along the beach to Jandia Playa and Morro Jable, formerly a small fishing village.
There the beaches are vast and easily accessible so that most of the hotels and thus the shopping opportunities are there. Along the promenade are stalls typical for tourist areas with shoes, belts, shirts and sunglasses mixed with entertainment centres as well as high street shops and designer establishments like D&G. They are building a Macy's at the moment, so there is shopper's paradise with stuff to be found for every size of purse.

Back to Top
---

However, there is one shop which is not that illustrious but very very useful. It sells Aloe Vera products and they are the best. Fuerteventura is famous for it's Aloe Vera and you can buy it at every corner, but these guys take real pride in their products.

Two years ago we visited the farm during an island tour and learned a lot about production and quality.
Don't know!

Can't

see

it

either...
Two years ago the Aloe fields were in sleeping mode!
Not the prettiest of all plants
From there I got my plant that serves me well when I'm running out of the bottled stuff.
When you skin the leave the flesh looks like a slippery very clear ice cube. This is basically the finished product. You can blend it and add a bit of lemon juice or Vit C as preservative to keep it a bit longer in the fridge.

Cut a leave from the second layer so that th plant can use the lowest layer as nutrition. Don't remove when it turns yellow.

There is a yellow liquid right under the skin. Keep the leave upright overnight to let it drain.
When we now visited the shop I was told that they are shipping to England as well – my plant will be so pleased to hear that.
If you are interested in the purest Aloe Vera product on the market please contact:
---
ProAloe Marketing SL
Apartado de Correo 89
E-35625 Morro Jable
email:aloe-vera-canaris@web.de
phone: 0034 928 166 329
fax: 0034 928 166 372
---
My mum puts her hands on fire for the 'Stop Pain Ultra' for sport stress and tension in muscles in general, I always have the 'Natural Jelly'. It's expensive but given my laser experiment still on, I will be so much better off with that stuff in the house. I haven't found any better skin treatment.

Back to Top
---

After we had successfully got hold of our Aloe Vera we marched on to Morro. There is not a lot left over of the tiny fisher village my mum was lucky to know some 15 years ago.
The last two houses at the beach are neatly tucked in between appartment blocks and restaurants.
Well, on the other hand the tourism brought some wealth into the area. On top of it all some rain floods hit the village badly and destroyed a lot of the harbour area twice already. It got rebuilt and a lot of restaurants and ice cream bars are inviting for a break.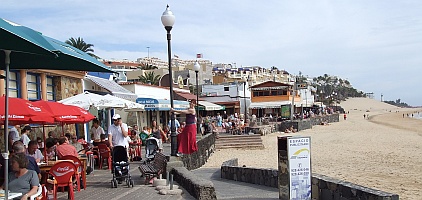 It is touristic but with a lovely atmosphere – and with the best ice cream place ever.

Binging on Ice Cream
Creamiest ice cream in a vast variety – and me in binging mode, oh oh. BTW: They have a small but tidy restroom as well.
However: I could hardly decide for a flavour while mum quickly went for vanilla and mocha.

Making my move strategically by thinking about sharing I boldly went for 3 scoops – I never go for more than two, Detlef is the ice cream freak in the family. I usually get brain freeze.

While munching on my caramel, rum-raisin (it's a must) and chocolate mix I was already planning on how to get hold of more without losing face. Sitting on the harbour wall breaking into hmmms and ohhhs people must have thought we were a bit strange, the more so that we looked a bit funny.
Itinirary for Morro:
Cuba Libre at the ice cream bar
shopping for copper necklace, hence the blue bag
back to the ice cream bar for the yummy stuff
Well mum was alright in shorts and trainers, but due to the laser treatment I will have to undergo again in a few weeks time I was not supposed to get tanned legs. Hence me wearing a long skirt which I don't particularly like so that it can be spoilt at the beach – and which is red. That alone wouldn't be a problem, but walking in sand and sometimes climbing rocks is not for nice shoes. So I boldly combined the skirt with socks and silver/green trainers.

| | | |
| --- | --- | --- |
| | | Realising that we were a lost cause anyway I didn't bother about my reputation anymore and got me another two scoops…nuts (matching our condition) and pistachio. |
I have to say: I'm glad I did. Firstly the guy who sold it was happy to see me back and gave me extra big scoops and secondly it was the absoluuuutely best nut ice cream I ever had – had to fight off mum who had kept her spoon…(just kidding)
Then we rolled back to Jandia to catch the bus. After such an exhausting feast we were just not in the mood to walk off those calories. 

Back to Top
---