Two Gals no Men – Wellness in Bad Nenndorf

Oh my goodness me, what a wonderful time
I had in Bad Nenndorf!

to follow:

Things to consider
My itinerary
Gallery
It all started as a mum & daughter long weekend out and our choice of location was determined by the proximity to the airport. We just didn't want to waste any time driving, and we wanted something 'Wellness'. The location that popped out of the Google research was Bad Nenndorf, a sleepy spa town in the Lower Saxonian flat lands.
Although I have been living in this county for more than 20 years I never came across it and my mum hadn't heard about it either. Well, sometimes two girls need to get lucky! As a matter of fact: We both used up our luck for the rest of the year taking this choice of place and date.

The Spa – Landgrafen-Therme

First of all, Bad Nenndorf has the most sophisticated Thermal Spa. My mum has been in many other places before and can confirm that this is the best one she has ever been in. Although prepared to the fact that our hotel didn't have a spa built in we nevertheless were a bit disappointed at first, and so we had planned for a shopping trip to Hannover to compensate. We girls just know what will make us happy, don't we?

Then we learned about the Thermal Spa in an about 15 minutes walking distance from the hotel, booked our treatments for the next day, skipped the shopping and had the best experience ever!

A lady in need of
spa - urgently...
... and another one!

Getting around the spa's facilities is so simple; we got wristbands with a chip and everything we did, had done and consumed was charged to the chip with payment at the end. Brilliant!

We arrived early for our appointment and had a good dip into the salty waters of the 33ºC, skipped the swim into the outdoor pool and then, just wrapped into a towel, went upstairs to the wonderfully calm wellness area for our first treatment. Later I learned from the internet that they lend bath robes for a small fee, next time we will do that.
So, the first treatment: Ever heard of Rhassoul? Be aware, the movie shows the same location, but one little detail they neglect to mention. I felt a bit like on 'Gotcha' when we were led into an oriental style spa room with warmed ceramic seats and two bowls containing three types of clay like substances.
Much, much better...!
Singapore Sling, Ahoi!

So we smudged this stuff all over us – white for the face, grey for the body, black for the legs – and looked ridiculous. Did I mention we were butt naked? How else would one use the grey…? Then the lights switched off, sparkly star lights switched on and herbal scented steam came out of a bowl filling the whole room. Soft music the smells the herbs in the clay, the lights,… all of a sudden nothing felt ridiculous anymore. After 20 minutes the light came back on and a warm shower rained from the ceiling to wash it all off.
Oh my, I have a skin like a baby now! Olive oil was provided to use as lotion and wrapped in our towels we dived into sun loungers for a rest, being served apple tea by a lovely therapist.

We then had booked relaxation massage, as if we weren't relaxed enough by then anyway. Boys and girls: If you ever have the opportunity to go to a German spa then get yourselves a massage! No offence, but the English just don't know how to do it. We got particularly lucky that our massage therapist was Turkish and a true genius. Again: My mum has seen plenty of others and confirms that he is one of the best you can get.

Up for mischief!
What a massage can do for you...
Should you ever decide to visit Bad Nenndorf then visit the Landgrafen-Therme and ask for a massage by Mohammed Pesget. All the aircon/computer work induced back pain was tackled without me mentioning a thing and I felt rejuvenated. My mum, who has severe problems with the spine of the neck, usually doesn't allow any massage therapist to touch her; she was thrilled to see that she could turn her head after the treatment. After some more apple tea we paid our reasonable fee and left the miracle place giggling like school girls.


Back to Index
---

The Hotel – Ringhotel Tallymann & Restaurants

Secondly, we got lucky with our choice of hotel. Although we had planned for a wellness weekend we chose this hotel, which doesn't have a spa department, for its reasonable price.
All the others were so much more expensive. It then turned out that Tallyman Ringhotel was the best choice ever. It is located a bit off the main Spa Gardens so one wouldn't get noise from open air concerts or other events.

But most importantly: It is attached to a rehabilitation clinic. So it shares a wonderful park and a swimming pool with this facility.
Early mornings, evenings and weekends hotel guests are allowed into the pool for free.
Room with balcony and park view

There is a beauty therapist in the house, but her opening hours collided with all the other stuff we had planned for, so we didn't try her and rather went for the thermal spa.

Our room was number 1346 which is on an upper floor at the far end, away from the restaurant terrace – which is lovely for dining – and overlooking the park. I always would ask for a room in this area of the hotel again.
The first night we dined at the absolutely superb Klabauterman restaurant which for this quality is reasonably priced. When the weather allows places on the terrace are available, which we took full advantage of. The next night we dined at the vine bar restaurant which is a bit more pricy; however both restaurants serve absolutely delicious food. If you need a bit of a digestive afterwards try schnapps called Borgmann. It will make your tongue go from sweet to herbal to … ah….good! It is locally produced by a pharmacist's family after traditional recipes. A lovely quirky thing to try!
Altogether: I wouldn't want to book a different hotel. However, if one is after frequent spa visits and walking by foot is not ones forte then a place called Hotel Edelweiss (German site) might be the place to check out. The spa is one of the three town pillars of health treatments, rheumatism rehabilitation clinic, medical fitness center and thermal spa. Hotel Edelweiss is part of that concept. I can't vouch for them, but from the quality of service we have received in Bad Nenndorf in general, one can assume the same from this one.


Back to Index
---

The Traditional Costume Festival in combination with Gourmet and Light Festival

So far a big chunk of our luck got used up by choosing Bad Nenndorf and then selecting the Tallyman hotel – but it got better.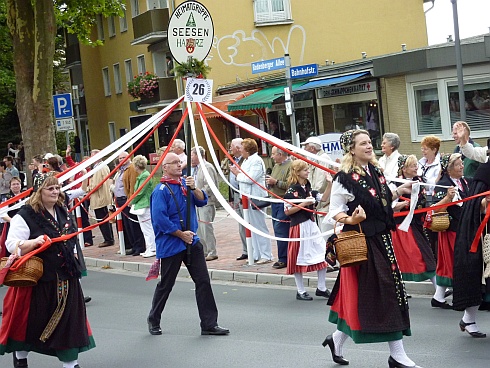 The timing was brilliant! We had chosen the weekend because in England we have a bank holiday Monday, saving me a day of annual leave. Here it was the weekend of the 'Traditional Costume Festival' (German site only).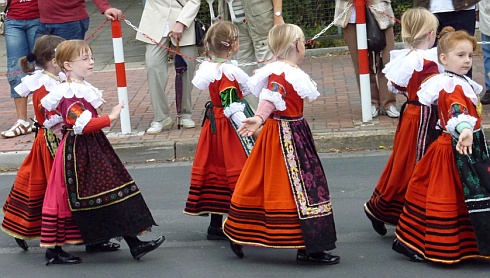 Well, usually this is something to chase me away since it has a lot to do with humpa music, hands clapping and stamping feet. But this one is huge and not just traditional stuff!
Lights everywhere!

The gourmet area of the festival as well as the restaurants in general offer a really nice and well executed choice of healthy foods mostly Mediterranean style, though. I hope my readers will forgive me that - although usually propagating a healthy lifestyle – this time I gorged myself on the unhealthy stuff. I felt a bit like in a time warp; and not just food wise.

After the day time activities of traditional costume display was over all sorts of bands were displaying their shows on the four different stages. So Saturday night I found myself dancing in front of one of them, shouting my head off to the music of the Rolling Stones: I CAN GET NOoooo, Satisfactionnnn… but I try… Oh, this time I succeeded: Maybe a bit differently than the Stones suggested, but I was a very happy gal that night.

This one however was combined with the annual Gourmet Festival and the Light Festival, creating a three day spectacle which I haven't seen in a very long time. It basically is a fun fair just that the big rides are missing. It actually is much nicer than the loud and noisy fun fairs. There were loads of those cute little merry-go-rounds for children and food stalls which I recall from our Christmas markets – the only thing I miss of Germany since I live in the UK – and thus me eating myself up and down the streets enjoying baked ham rolls, roasted almonds and ice creams.
Eventually I didn't even think about whether or not I might embarrass myself or somebody else – What is the worst to happen?
Again: That was not all! I already mentioned the light festival. Lights everywhere in the Spa-park; tea lights arranged to all sorts of shapes, lampion, lit cones and trees… oh my goodness: It's indescribable.

And stilt walkers everywhere, the most wonderful fairy figures – they really managed to turn such a huge event into a cosy fairy land.

Apparently next year's event is already in planning, and so is my next trip.Only hiccup, our husbands got excited… Hmmm, that means we have to find another location for our mother-daughter thingy and do this one with the husbands.

Oh well, I think we will cope, it is just too good to be missed.

Who will win this battle?


Back to Index
---

What's happening in the area?
The area around Bad Nenndorf bears some treasures as well. Just a 20 minutes drive away is the city of Hannover which was one of my favourite places to shop when I still lived in Lower Saxony. The pedestrian area is huge and offering shops for purses of any size and more food courts than one should ever attend to. When we stopped by on our way to the airport we instantly found a cute jacket for mum and the turtleneck shirt I was looking for since ages. There is a lot of sightseeing stuff as well, but to be honest: For me it is just the place to shop.
Another half hour drive from Hannover is Braunschweig. This is my former home town and the quality of shopping opportunities has picked up since I have left. The castle got rebuilt and is used as a mall. The pedestrian area is much cosier than Hannover and many more coffee places are cutely dotted all over the many market places. The true value lies in the sight seeing. It has the Rizzi House, the Magni Viertel with cute little streets and shops, museum, theatre, Dom Platz. It is worth a day trip. And should you get there please say 'Hello' from me. I loved living there.
Other cities worth a visit and easy to reach for a day trip are Hamelin – sorry never been there, but this is where the story of the The Pied Piper of Hamelin originates from, and it is said to be very pretty; and Hildesheim where the early bishops were residing from. I am not good in recalling historical stuff, but I remember that I was deeply impressed when we visited some 15 years ago.
Steinhuder Meer - Lake Steinhude

I kept one great location to show you last. It is Lake Steinhuder.

Again, just a 20 minute car ride and you get to a beautiful, huge lake which due to the shallow waters warms up quickly and is a wonderful bath and family resort.

Unfortunately we had a spell of wind, cloud and the odd drizzle, but it was still very pretty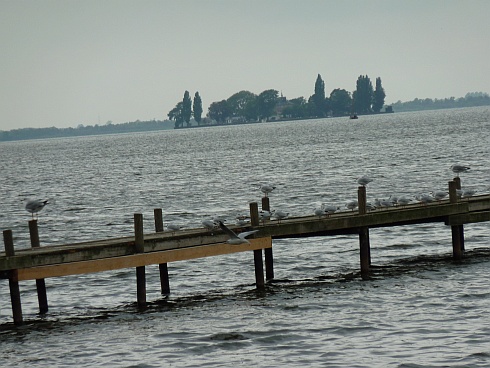 One can  hire boats, book a boat trip, and do bike rides. For us the weather had turned to the worse that day and so we just had a walk along the banks. From the leaflet at the hotel we had learned that there is a butterfly zoo and it turned out they had a big display with all kinds of creepies of which I will show more in the Gallery next week. For now just enjoy the size of this tarantula.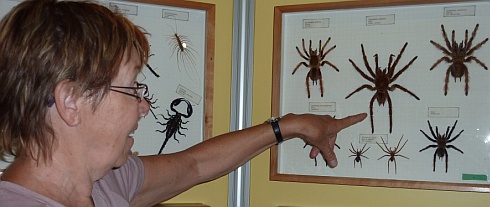 | | | |
| --- | --- | --- |
| The butterfly house was wonderful. Well, we were rather refreshed from the walk and the subtropical atmosphere really warmed us up. | | |
I have to say: Would I have children I would choose Steinhude before Bad Nenndorf as holiday location to then explore the are from there.
Another nice feature are the staple market. Apparently Steinhude burnt down a few centuries ago, and it was decided to rebuilt the staples outside the village to protect them from fire kept in the houses which seemed to have caused the catastrophy in the first place. In the year 2000 when the World's Fair was held in Hannover they were refurbished and turned into museums, shops and restaurants.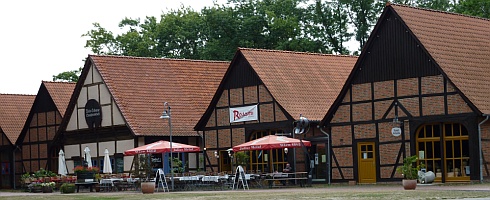 I have no idea though, why there is a British Lifestyle shop. Great hampers, though.

Some of the staples house quite querky businesses like a story teller.


Back to Index
---

Shopping
Well, I hadn't planned on any or expected good opportunities. But as usual: If you don't expect anything you get it big time!
Above I already have mentioned Hannover and Braunschweig as great places for shopping. That can be expected of course as those are big cities… but who would have thought that Steinhuder would offer good shopping opportunities. One of the staple shops was stuffed with hand crafted ceramics, house decorations, jewelery and other accessories like scarfs and bags; another one was full of Italian and French designer clothes and handbags - do I need to comment?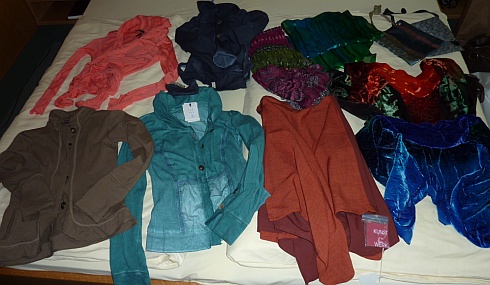 Back to Index
---

Related Links
Rhassoul - Morokkean Cleaning Ritual
Traditional Costume Festival' (German site only)
Stilt walkers of 'Stelzen Tanztheater Leonard'
Steinhuder Meer - Lake Steinhude
Culture
Haldi KumKum
Live & Let Live
Why: "How 2 Kitchen"
Money
Money, Money, ...

Motivation & Fun
Who's listening?
Eureka Moments
Inspiration vs. Motivation
The real Teese
Tummy & Co
Obsessions
Nine Words
Cycle of Life - Some Thoughts
Internet and Branding
Brilliant Business Women
The Typecast Trap
Garden without Fuss
Mills & Boon
About Veg
Pushing the Limits
About Criticism
Forum on RFOS
Achievements
Bringing it together
Reflection...
...Bringing it together-Part 2
Time Management
Passion
Creativity
Relationships: Cliché!?
Incredible List of Rules


Movies
The Invention of Lying


Networking
Nerds VS. Dilettantes
Knitting 21st Century Style
A Network Is A Home
Serious Game
Networking Strategy


Restaurants
Milsoms - Kesgrave Hall
Court Restaurant London


Techie Stuff
IL and the Internet


Travel
Ideas
To Sumatra as Eco Tourist

Bad Nenndorf
Two Gals no Men: Wellbeing
London
A Posh Day Out!
A Market Day Out!
Fuerteventura 2009
Travel Diary
Travel Read

Fuerteventura 2008
Fuerte - The Island
Fuerte - Dirary & Club Life
Fuerte - Shopping
Fuerte - Jet Ski
Fuerte - What else?

Tuebingen 2008
A Day out in Town
The Gallery
Misc
Natural History Museum
What I Pack
Lowestoft Airfestival