Fuerteventura 2009 - My Travel Diary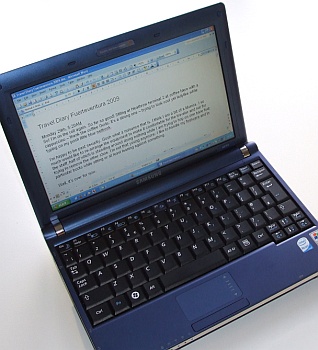 Monday 29th, 5:20AM
So! I'm on the roll again. So far so good! Sitting at Heathrow terminal 2 at coffee Nero with a cappuccino – thank the coffee Gods: It's a strong one – trying to look cool yet ladylike while typing on my posh little blue netbook.
I'm happy to be past security. Gosh what a nuisance that is. I think I am a bit of a Monica. I so much would like to re-arrange the equipment to make it comfortable for the traveller and not for the staff, half of which is standing around doing nothing while I am trying to hop on one bare foot trying to remove the other shoe. I'm not that young anymore: I like to handle my footwear and in particular boots while sitting or at least leaning against something.
Well, it's over for now.
The hotel was the usual – no runway view this time but it's not THAT interesting anyway. Played a bit with Twitter and tried to find a free Wifi spot – everybody wants to get into my purse, so I skipped that for now.

Taxi this morning at 4AM was a bit late and grumpy and check-in started late – so no surprises there either.

I actually went for the lady like travel approach that I had thought about and it was much more comfy than I thought it would be.

A bit of an overkill for a 6 hours stay - just didn't find a use for the bath robe and the slippers.
Shops at the airport are still all closed. Had hoped to get to Dixons; of course forgot something: Detlef has the cutest little travel mouse, the perfect match for my little computer which BTW is called Columnbina in our home network. Columnbina should have a pet and if it were a mouse… and I forgot it. And none of the shops open to buy a new one. Well, next time then.
Got me a book at borders, though: The Forgotten Garden by Kate Morton. I read about it in a writer's magazine and I'm keen to dig into it during the flight. But why do they have to stick labels on books – I hate labels on books. Even a paperback deserves a bit of respect and on a flight I don't want to carry a '3 for 18 quid' offer.
Gotta go now, after a sandwich (chicken, roast tomato and spinach) and a cappuccino at 5:15 in the morning I should really visit a certain place before boarding will start at 5:50. Gosh it's 5:45! One really forgets about the time flying by when typing away happily.

10:30, Madrid!
I really have to remember how this airport works. It's the same ol', same ol' like last year just that I had forgotten… Past security I arrived at terminal 4 in the departure area and heading towards gate M I used these conveyor belts I like so much – it's like walking on stilts. The area is beautiful and big and has loads of shops and restaurants. However, once I got there a signpost found me saying 11mins to gate M, causing some nervous rumouring I am an too inexperienced traveller to enjoy myself in shops and restaurants while not knowing what lies beyond… and might this estimate of 11 minutes correct, and might there be obstacles… and anyway…
On the other hand I remembered that the space I ended up was boring. Oh well, this time I am much better prepared. I am equipped with two packs of Mrs. Crimble's bakewell slices and double chocolate brownies (BTW: all gluten free) – I actually packed three, but one didn't make it out of the hotel anymore; blushing vigorously this very moment – and I have the computer and I have a great book. So off I went, down the escalator, into the little train and … ending up in the same boring place. I really have to read my own website more often I'm sure I mentioned something like this before.
At least the place here is well organized. In Heathrow I didn't find myself very well accommodated. My gate was 15 and when the path for 11-15 was branching from '16 – whatever' there was a toilet sign attached to the latter.I followed it around two corners and given that my time was running out I gave up, thinking that surely they wouldn't leave passengers of 5 gates without a loo. Well, they do! I'm pretty sure I didn't miss something and all of a sudden I had my pass checked and was wedged into a dead end. No going back nor forth. I felt relieved and lucky that the sandwiches I had before behaved well, as did the about 800 additional calories from last night.
Oh, and Twitter works brilliantly. Detlef confirmed to have found all my tweeting and was happy like a Cheshire Cat.
For the rest of my break in Madrid I will now resort to my book. Oh, this woman can write, yellow of envy I will go on enjoying the story she is unfolding in front of me.
---

Wednesday, 31st

It's two days into the trip already. I was so busy that there was no time to write. Due to mum's oversleeping today I have a lovely calm moment to jot a few things down now.
Monday, 26th

When I arrived here at the airport I chose to take a taxi rather than to wait two hours for a bus. I started in style so I will finish in style.

After a pleasant 1 hour drive and with 80 Euros less in my pocket I reached Robinson Club Esquinzo Playa just in time to meet my stepfather who was due to leave that same day to make space for me. What a lovely surprise.

Rika arriving on Monday around 3PM
Holger leaving around 4:30 PM

I have to explain: For the third year now Mum is sending hubby home to make accommodate my stay, and usually he has already left by the time I arrive.

Now that I used the taxi I was much earlier than expected and hence we could have a good two hours tea party with him and a befriended couple whom I know from my time in Germany as well.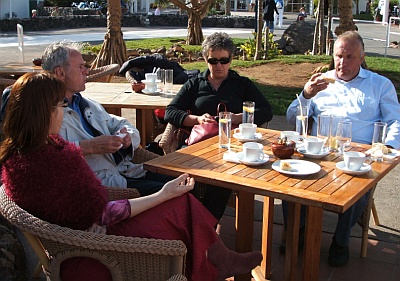 Next task on my list was to get little Columnbina onto the internet. And she got lucky since mum has a good room. The wifi hotspot is around the terrace and the communal area and only the rooms next to it benefit from it. While we are at the very far end, there is another hotel close by which amazingly enough has a wifi hotspot as well which we can use.
Time's up, gotta go to breakfast now, which BTW is really, really lovely. One can get everything from very healthy to quite the opposite – yummy!
---
Back now in the evening for a couple of minutes to do a bit of writing. I'm bummed, I lost the hotspot - everywhere! It didn't work on the terrace either so I guess the provider has some trouble providing. Thank God for Twitter. I already tweeted that I have problems and I'm hoping that Detlef will pick it up and research. Hi was so proud that I coped well on my own and now they are stealing my thunder. Grrr...
So, where were we?
Tuesday, 27th

In the afternoon I had my wind surfing taster session. I

had been lamenting since years that I wanted to try and always chickened out.

Now mum had taken action and booked me for a free taster. Since I didn't have a clue what would go on the strong winds did make me feel a bit uneasy.

We had some lovely sunshine in the mornings and our balcony was nicely sheltered from the wind so that I could enjoy the warm and my book for a while.

But when I caught an eye of the beach in front of me with the flags blowing all horizontally... Hmmm?!
So off we went, armed with a camera, a jumper for mum who would be exposed to the forces of nature without any exercise and a lot of good spirit.

And it was great!

Although I didn't get wet and the pictures are not really telling. What a luck I had!

Firstly, that it was so windy and secondly that only one other lady was interested.

First contact:
Feet to sand!

First instructions and a lot of thinking:
E.g. how to carry a sail without lift off - see the gallery (to come)!

The worrying thing about everything to do with wind is:
One can't see it!
So how do I use something invisible to steer my way through something really, relay wet?
With the sail wedged into the sand one could feel the force of the wind so well, and all of a sudden it all made sense.

This experience on dry land made me realize that the sail and the force one can feel pulling at it gives a rather clear indication where to this whole setup will move.

I got so excited that I am now planning to do a course.

Probably even here in England on Alton Water or so... to learn the theory first, before I'm starting to fight my lack of balance, the ocean waves and the 'real' winds.
---
For the rest of today: It was a brilliant. The breakfast was great as usual, the trip to Lanzarote for tomorrow has been booked, so off we went to Moro Jable.
The little fishing village is getting more and more overcrowded and un-cosy. We didn't even find my beloved ice cream seller anymore. Shame! The rest of the shopping was rather sad as well. So again I saved a lot of money. Good!

We did get the Aloe Vera products, though. I was rather keen to get hold of that stuff. It is rather expensive, but the best thing ever for skin and hair – we all don't get younger and are in need to some good potions, don't we.

I shot some pics to make a website for them. That stuff is just great,  worth every penny and deserves a bit of advertisement on IL (to come).

---

Friday,30th
| | | |
| --- | --- | --- |
| It is a little bit like looking into a mirror, though! I don't know how Detlef is coping with a blabbermouth like me. I should try and learn something from it, I guess! | | Hmmm… I just realized that my account of the trip is a bit all over the place. My dear mum tends to talk like a little parrot while I'm trying to jot down a few things until I eventually give up… |
Funny thing is that she is teasing me because I tend to talk like a little parrot.
Oh well, there is no denying it: We ARE mother and daughter!
However, after an incredibly exhausting day yesterday - the trip to Lanzarote (needs a bit of research so please bear with me until next week) - we decided to have a lazy day today.
After a long lie in and an extensive breakfast I have been reading in this still incredible book 'The Lost Garden' and then I trotted off to the communal area to find out why I can't get internet connection via wifi.

It's a bit chilly in the shade
While mum is having a sun bath on the balcony I have found out that wifi is a very delicate thing and coming on and off. Luckily I had something like 20 minutes of full strength to send an email to both of our hubbies and then it broke down again. Only place to have it full strength is the internet coffee, a dingy cold and uncomfy space with unsuitable chairs for computing tasks. To avoid THAT is why I wanted wifi – some of the modern things which people might consider a comfort these days have not been understood by service providers yet. I don't think that these hot spots are THAT expensive, or are they? I would plaster the whole area with them.
What IS provided excessively is food – gosh, I just had another croissant and pastry roll. They are killing me here. So, enough for now. I have to move the old bones a bit and will bring myself to have a rowing & walking session. just to survive dinner and the next two days a bit better. Have to hurry already, since the next dinner is lurking around the corner.

---

Saturday, 31st

After the having done a lot of walking on Wednesday and a lot of bus sitting on Thursday we figured: One day of rest is not enough. It is holidays after all!
So we only bent back and forth between the restaurant and our room and otherwise dug ourselves in with a book. Our balcony is facing south with view of the ocean – so it is valid holidays, still.
During the past two days I got myself a tiny sunburn due to negligence when applying sun block – always stick to a system and don't chat meanwhile – and eventually I could dive a bit deeper into one of the best books I have read since a while. Friday night we had a horrible storm, thank the weather Gods that they spared us on Thursday when we were on the ferry - altogether very weird and unusual weather for Fuerteventura.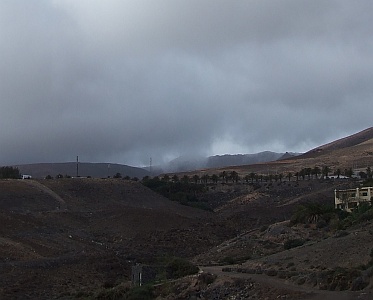 Our room is the one at the right margin, top floor.

---

Sunday, 1st Feb

Thus recovered however, threatened with more rain for Sunday afternoon we decided to bid a farewell to the island by having a walk along the beach and a dive into the waves (18°C) for mum – did I already tell you that there is a bit of madness about her?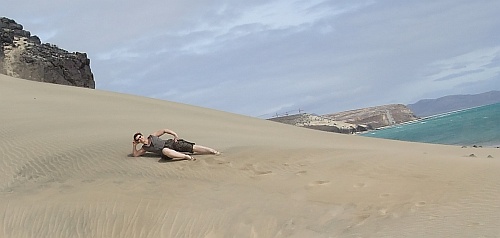 This is a little dune, inviting me to be a bit silly
It wasn't an exciting walk in terms of being able to write a non-boring account, but nevertheless it was a wonderful morning. Walking barefoot in the sand, with heels digging in so the calves start aching after a few steps, following the beach around one bend after the other, curious to see what is behind the next one until eventually we reached a bar located on the waterside where I could buy myself the allowance to use the guest loo on purchasing two ice creams – always the same, sometimes I just envy the guys…
2009

On our way back we stopped at another bar for the now already traditional Cuba Libre to then at least cool down mum in the cold waters of the Atlantic.

Getting ready!

2008


... and then the daily task to turn ourselves from, sun screen sticky, sand clogged dirt packs into dinner-ready beautiful goddesses – well, sort of-ish.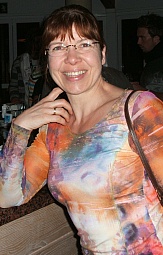 Mum is usually attempting this by dashing down to the good old German style (nude) sauna, while I prefer a good soak under a hot shower – how nice it is not having to clean it myself

---

Monday, 2nd Feb

They are so beautiful and they come in all colours. There they were all four of them having a sun bath.

And now I'm on my way back, hanging delayed at Terminal 4 – the most boring airport places one can imagine.

Eventually! On my third trip on the last day I eventually saw the wild donkeys. Right below the window in the ditch where I shot the movie last year – there they were: Four of them; white, grey, brown and beige. Grazing an sunbathing and not bothered at all from early wanderers in the area.
.Well, given that I'm not a very well travelled person I might not be the one to say so, but I never had worse sandwiches, and that means something. I'm so happy to have my little travel computer. With the book finished I would otherwise bore myself to death here. And can you imagine me without proper coffee for a whole day? Only a sad little coffee late, luke-warm and more late than coffee – grrrrr.
Now another half hour or so and then hopefully we will be in the air again off to London where I will be awaited by snow. Gosh, I'm so happy that we didn't bank on trains when we booked the whole thing, but gave the job of picking me up to my dear Paul Bycraft with his taxi. I guess the poor bloke might be dreading it a bit since I talked his ears off about weight training on our way to London. I will definitely see to constrain myself on the way back. Guess we are boarding soon, so hopefully see you soon in good old England.
PS: Turns out I got soooo lucky. Mine was the only Iberia flight that didn't get cancelled that day due to Heathrow being closed almost all day thanks to the snow. Must have had a guardian angel sitting somewhere.
---
External Links: