The Natural History Museum - London
Well, that may sound a bit like a load of old, dusty, stuffed animals. And as a matter of fact: There are a lot of old, dusty, stuffed animals! Oh, but it is sooo different to the school store rooms where we used to keep Otto the skeleton and some owls and squirrels which usually made me sneeze.
And even if you are not interested by dinosaurs, you will be hooked by the display. And even if you are not into learning about mammals, it is hard to not like the the lovingly arranged exhibitions.
The building itself is worth a visit since some cathedrals are less decorated. Unfortunately these days security demands the display of handbags and one is not allowed to enter by the middle arch anymore. Nevertheless, the first thing to greet you a welcome is the head of a huge dinosaur skeleton located in the main hall.
But back to the stuffed animals: It astounds me every time that whenever I walk along one of those long corridors with the diorama and fossils I first get bored a bit. So much information and stuff to read in order to actually make sense of it all, and be honest: One has seen it on the telly in an animated form. So what's the point...
And then the corridor leads into a room and I get knocked off my feet!
Last time we were following the signs to the toilet... same thing: diorama, fossils and then, around the corner... the monumental sculptured head of a Blue Whale! Curiously peering around the corner it grew bigger and bigger expanding into the whole thing. I have never seen such a huge model. And all of a sudden it was better than telly. Even if they show these animals in proportion to a ship: It is almost impossible to grasp the dimensions. But here it unfolded right in front of our eyes.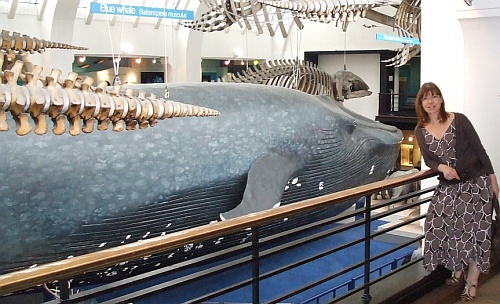 So on we went to read more and found other things and displays and buttons to press and I completely forgot that the location I had aimed for in the first place had to do with water as well, but in a very different way.
We however had made our way to London to see a special attraction. They always have some special exhibitions, which usually are charged while admission to the rest of the museum is free. But that is not what we were after.
The NHM is the only museum to have 'Behind the scenes tours'. In a small group of a maximum of eight we were guided through the laboratories and the store rooms.
A fantastic experience!


Turns out that about 300 scientists are working behind the scenes on all sorts of projects and that the Museum is relying on donations for upkeep.

Since we liked it so much we decided to support the museum and to become members, which is really not expensive and gives all sorts of advantages like invitations to talks and free admission to special exhibitions and many more things. Would we have known earlier we could have saved quite a bit of money on the beautiful 'Butterfly Exhibition'
One of the best things is the access to a members room where one can have a bit of calm and enjoying the refreshments that can be bought in one of the coffee places located at the museum. This museum is a delight for children as well as for adults, and the recreation areas are superb.
| | | |
| --- | --- | --- |
| We didn't try the restaurant yet, but the menu looked delicious and the coffee place can beat any Starbucks, Nero or Costa. | | |
This membership turns out to be a really good investment for us. Since we live not far from London, but far enough to having to make it a day trip, the National History Museum sort of has become our London day home. After a good hours trip one can drop in and have a lunch and a rest to then start off either to explore one of the many departments and special exhibitions of the museum, or to do some shopping in town.
So if your travels should bring you to London: Definitely visit! ... and if you are a Londoner: Don't forget to visit once in a while and to support one of the most wonderful institutions your town has to offer!