A Posh Day Out in London
July 2009
It was the occasion of our Silver Wedding Anniversary! Something special needed to be arranged and hubby was in charge. A party was out of the question: This would be OUR day and it needed to be perfect.

And perfect it was!

We live close to London, so 'a day out in the city' is nothing special per se. Others however pay a lot of mony to get there. So we started off with the realisation that we are actually rather lucky to have a great location so close to home - so 'London' was decided upon.

Then of course one would like to be pretty, wearing heels, possibly dress and cute handbag as opposed to backpack. Transport needed to be arranged accordingly: 1st class train tickets and enough cash for taxi rides.

Turns out that some of the more modern taxis accept credit card, but since we had the cash we spent it.

This kind of travel arrangement allowed for my favourite dress and the 5 inch heels and I felt very 'Sex and the City' indeed - A perfect start into a perfect day.
On arrival at Liverpool Street Station first action always is a rather un-posh visit to the loo worth 30p – thank God for the machines to change coins, that really can save the day – then clothes, hair and make-up check; London here I come.
Taxis are located behind platform 10, and off we went to the British Museum. Don't get me wrong, the museum is one of the best places in the world to brush up on culture and history, but what we were after is the restaurant; for us one of the best places in the world to have lunch.
A few years ago we discovered it by chance and from then on we visit it for our anniversaries. Do&Co Court Restaurant never disappoints and yet again it was a wonderful experience. The booking was made online, the confirmation came promptly and on arrival it became clear that Detlef's mentioning of our silver anniversary was picked up upon.
We were greeted with a glass of Prosecco which we thoroughly enjoyed. I have to admit: In regard to everything sparkly we are utter laymen. We usually just don't like it, but this was a fine glass, and since breakfast was long forgotten, I got into swing quite nicely even ordering a beautiful glass of Rose wine. Not too bad for somebody whose usual order is a Diet Coke, alongside a comment: 'No thank you, no alcohol it gives me migraine'.
A tiny bit tipsy I was brave again in my order and going for fishy things and oh those pasta were divine. I did not get disappointed. Have you ever noticed that pasta is getting cold very quickly and if one is lucky the restaurant heats the plates before serving? I have no idea what sort of dishes they are using: The plate was at room temperature and the pasta stayed hot to the end.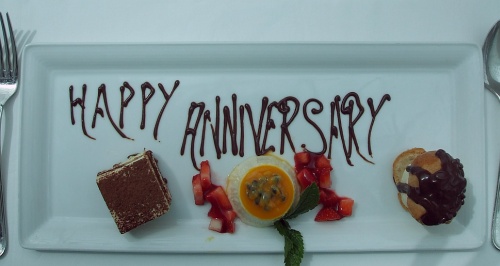 We were dining for two and a half hours; chatting, eating and drinking guided through our courses with the subtle attendance of the waiters, which we already enjoyed so much during previous visits.
Avoiding one of the typical London summer rainfalls we strolled through some of the exhibitions and then caught one of the taxis in front of the museum to get to Kensington Gardens. I was prepared to have a short walk to get to Kensington Palace which is located in the park and cannot be accessed directly by car.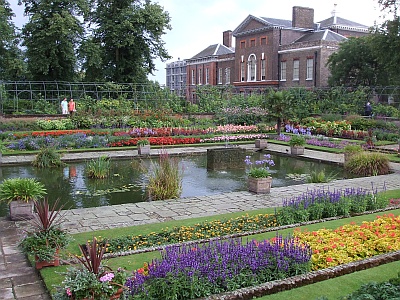 We of course visited the exhibitions, had to however cut it a bit short for a good reason. We were after more food, or better: The experience of food!
The Kensington Palace Orangery restaurant only serves afternoon tea until 6PM in summer and we definitely wanted to indulge in this most typical of rituals which describes Englishness better than anything else. Oh my goodness, did I misjudge the amount of food involved.

Try the 'Champagne Tea'!
Firstly, I had never better tea. I have been drinking a lot of Earl Grey tea of all sorts: I now know how it is supposed to taste! Oh yes, there is 'tea' and there is 'TEA'. Secondly, I now know what the fuss is about sandwiches. Common people might think it's something bland with no crust served at the wrong time of the day… Oh no, these salmon-dill sandwiches were exactly what I needed at that moment in time and they were just superb. Then things turned  - oh well, really really bad: Scones with clotted cream.  I didn't know what clotted cream is… Now I know! How can they do that to me? That is sweet butter… No, not sweetened butter; it is non-salted butter which is very very fresh and creamy. Being German and not used to salted butter anyway... a dream! And all of that with berries. One would think that it can't get any worse but it did: Belgian Chocolate cake with cream – the clotted version again. Detlef had gone into strike by then, he is not a real cream fan and the chocolate cake was a bit too dry for his taste. Well, he wouldn't know when heaven falls down on earth. Just try a bit of cream with the cake… a sensual explosion. Gosh was I lucky that I chose the dress that is most forgiving of big meals!

We definitely needed a walk. So off we went up North through the park up Queensway to Whiteleys - a bit of a different, less posh but a wonderfully bustling cosmopolitan world all of a sudden. After a stroll through the mall we took a taxi right in front and headed back to Liverpool Street station. While waiting for the train we helped ourselves to a well deserved cappuccino and used my new iPhone to research locations for our next trip to London.

A perfect finish for a posh day out in London!
Culture
Haldi KumKum
Live & Let Live
Why: "How 2 Kitchen"
Money
Money, Money, ...

Motivation & Fun
Who's listening?
Eureka Moments
Inspiration vs. Motivation
The real Teese
Tummy & Co
Obsessions
Nine Words
Cycle of Life - Some Thoughts
Internet and Branding
Brilliant Business Women
The Typecast Trap
Garden without Fuss
Mills & Boon
About Veg
Pushing the Limits
About Criticism
Forum on RFOS
Achievements
Bringing it together
Reflection...
...Bringing it together-Part 2
Time Management
Passion
Creativity
Relationships: Cliché!?
Incredible List of Rules


Movies
The Invention of Lying


Networking
Nerds VS. Dilettantes
Knitting 21st Century Style
A Network Is A Home
Serious Game
Networking Strategy


Restaurants
Milsoms - Kesgrave Hall
Court Restaurant London


Techie Stuff
IL and the Internet


Travel
Ideas
To Sumatra as Eco Tourist

Bad Nenndorf
Two Gals no Men: Wellbeing
London
A Posh Day Out!
A Market Day Out!
Fuerteventura 2009
Travel Diary
Travel Read

Fuerteventura 2008
Fuerte - The Island
Fuerte - Dirary & Club Life
Fuerte - Shopping
Fuerte - Jet Ski
Fuerte - What else?

Tuebingen 2008
A Day out in Town
The Gallery
Misc
Natural History Museum
What I Pack
Lowestoft Airfestival