The Real Teese

Oh my goodness, where to put this? Dita Von Teese, burlesque star, pin up, fashion icon, writer, ...

That could go under 'Art', 'Fashion & Beauty' , Galleries,... in the end I decided for Lifestyle, because that is what she is embodying: A lifestyle of femininity, style, tease and control.

While reading her book Burlesque and the Art of the Teese I learned that she never stopps pushing the envelope and always stays true to herself, and she became successful with it. Not many can claim that for themselves.

So on Friday 27th November 2009 she came to London to sign her new book and we, that is hubby and me, went to see the real Teese.
I have to confess, in the end I couldn't get myself to queue, I never found a thrill in getting an autograph from somebody. I however enjoyed watching the fans, how wonderfully patient and considerate she is for their wishes and I enjoyed the whole atmosphere around this session.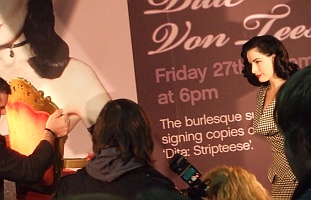 At first one couldn't see a thing, because the allocated place was small and photographers were crowding the area. And then it was really like telly, asking her to do this and do that.

After that the fans were allowed to approach one by one, some of them presenting little gifts and then getting their signature and a picture taken.
And there it was this tiny bit of yellow envy: Of course I would not have a picture taken together with her, I would look like an old crow in comparison. Now, in the last IL-diary I asked myself:
| | | |
| --- | --- | --- |
| | ... if she is just gorgeous, if she is plastered but it works for her, or if it is all only working on pictures and for real life it's a big no-no. | |
She Did look just gorgeous... however, perfect light was installed, make-up was paintwork but suitable for the occasion and hair was glued to the head but equally suitable for the occasion. It just works for her. I even think she could go in normal light and look wonderful while I would make a ridiculous appearence in the best of lights with a make-up and hair like this.
See, that is the thing we call 'Style'. She found hers and we have to find ours. Just plain copying is not working, what however does not mean that her look is not inspiring. It made me even more determined to find a made-up look that works for me.
The next day I was keen to read any comments on Twitter about the event and something truely amazing happened. She individually thanked people for the gifts, and she answered questions in a more elaborate way than one would expect in 140 letters. It was better than any interview which always gives a filtered view of the writer. Here things were straight and honest.
Nobody please ever say anything against Twitter and Co again. All that is needed is to handle the medium the same way life should be handled: With Style!
And now some pictures of Dita and her fans:
| | |
| --- | --- |
| | |


And that is how it's Done!
Culture
Haldi KumKum
Live & Let Live
Why: "How 2 Kitchen"
Money
Money, Money, ...

Motivation & Fun
Who's listening?
Eureka Moments
Inspiration vs. Motivation
The real Teese
Tummy & Co
Obsessions
Nine Words
Cycle of Life - Some Thoughts
Internet and Branding
Brilliant Business Women
The Typecast Trap
Garden without Fuss
Mills & Boon
About Veg
Pushing the Limits
About Criticism
Forum on RFOS
Achievements
Bringing it together
Reflection...
...Bringing it together-Part 2
Time Management
Passion
Creativity
Relationships: Cliché!?
Incredible List of Rules


Movies
The Invention of Lying


Networking
Nerds VS. Dilettantes
Knitting 21st Century Style
A Network Is A Home
Serious Game
Networking Strategy


Restaurants
Milsoms - Kesgrave Hall
Court Restaurant London


Techie Stuff
IL and the Internet


Travel
Ideas
To Sumatra as Eco Tourist

Bad Nenndorf
Two Gals no Men: Wellbeing
London
A Posh Day Out!
A Market Day Out!
Fuerteventura 2009
Travel Diary
Travel Read

Fuerteventura 2008
Fuerte - The Island
Fuerte - Dirary & Club Life
Fuerte - Shopping
Fuerte - Jet Ski
Fuerte - What else?

Tuebingen 2008
A Day out in Town
The Gallery
Misc
Natural History Museum
What I Pack
Lowestoft Airfestival