What I Pack for Summer Holidays!
Every time dear hubby travels he promises to make a list of what to take because something is ALWAYS missing - and he never does.
I love lists, so why not do it now. There is one each for the
---
Your ideas

Hand luggage

For last year's trip to Fuerteventura I used a back pack since I was travelling in combat trousers and sneakers. This year I am intending to travel ladylike so I have the choice between my usual handbag and a computer bag with loads of compartments.

Travelling is always stressful for the luggage and I was so happy to eventually find a handbag that I like.
| | | |
| --- | --- | --- |
| Thus I most likely will use the computer bag - I will look very business like. The colour matches my clothes better anyway and it has longer handles so I can carry it on the shoulder; always a good option for travelling. | | |
So that's what goes in:
Passport
Travel confirmations/tickets (flight, train, hotel,...)
Foreign currency
My own currency, especially small bills and change for taxi, bus and tips
Credit/debit card
Tissues
Lip balm
Nose drops (to avoid headache in case the nose blocks on the flight)
Liquids bag (small, transparent) for toothpaste, lip balm, ... for security (must be less than 100ml each)
Cough candy (to avoid blocked ears on start and landing)
Cream (one that goes as hand and face cream - aircon dries the skin out)
Book
Glasses
Sunglasses
Jewellery
Mobile
Camera
Computer
A snack bar because it's hols - oh joy - and one needs the energy to enjoy the trip
Some water - you will have to dispose of it before security and buy new one after, hence the small change.
If space allows: charging cables for electricals (in case suitcase gets lost)
Depending on the flight duration and on how well I know the destination and shops available
Scarf if I am not wearing a fleece anyway (especially overnight flights can get cold)
Fluffy socks (to take off the shoes and have warm feet
Emergency pack collected in a freezer zipper bag at the bottom of the hand luggage (don't forget to get the toothpaste out at the airport to show at security) in case the suitcase gets lost. Consisting of:

brief
small shirt, like tank top
pair of socks
small towel
Toothbrush
Toothpaste
Extra freezer bag for dirty/wet stuff
Well, and the things I do not need but some of you might:
Contraception pill
Important medication
(never in the suitcase in case it gets lost

---


Somebody is a bit in the way.
I am packing more white hair than anything else!

Clothes!
Oh, that is difficult because it so much depends on the type of holidays. Mine will be very casual during the day, there is a beach and there are sport facilities. In the evenings there will be a bit of dressing up. The biggest load always are the shoes - beach, casual, sport, nice... So it is essential to choose the clothes in a way that is a good mix and match.
Evenings
Dresses, Skirts and trousers which go with the same pair of shoes
Hangers for the dresses
Shoes
Shirts / blouses which mix and match with skirts and trousers
Cardigan or light blazer
Scarf (an evening breeze on the terrace can be rather uncomfortable - and it looks good)
Tights / socks
Belts
Small handbag
Jewellery
The dresses have matching cardigans and with a magic scarf I'm fine in any weather!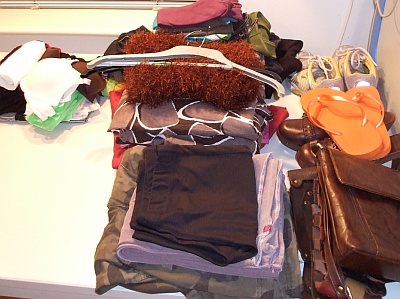 All there is missing are three shirts which only got washed recently and are still on the hanger and the wash bag.

General
Briefs
Bras
Night gown (well a big T-shirt for me, I'm travelling with my mum after all)
Sport
Trainers
Socks
Shirts
Pants
Gloves
Training book
Favourite hair band, cap, shield
Beach
Shoes
Bikini / bath suit
sarong or beach dress
Beach bag
Some sort of hat
Day time
Comfy shoes (trainers?)
Socks
Shorts or comfy skirt
Possibly comfy trousers
T-Shirts / Tanks
Cardigan
Headgear
Scarf (if you are active and sweat a bit, and then should get in a shady place with wind, it's nice to have one)
Small back pack

Other Necessities!
Wash bag
I won't take any make up - I am tempted to, but I want to travel light. So it's more the necessities that go into the wash bag.
Tooth brush
Tooth paste
Comb, brush
Shampoo
Aloe Vera gel (for sun burn, tight skin and as hair conditioner - best stuff ever, will buy new supplies on the island)
Face cream
Deodorant
Body Lotion
Sun Lotion
Nail care set (basic, for emergencies)
panty liners, tampons, press on towels (travel can mix up things, so I like to be prepared)
Cotton buds
My vitamins for the week
Hair bands and clips
Shaving stuff
Electric Accessories
They are a nuisance but one can't do really well without them. One wants to use a mobile, a camera (this time just the small one) and now I am even travelling with computer. Thus I need:
Chargers for

Camera
Mobile
Computer
Shaver (if an electric cable one is used)

all basically preferred in the hand luggage but it might be just too much and has sometimes to go into the suitcase



USB cable to connect camera to computer
Loads of adapters for European sockets
Hair dryer (I don't need one as it is supplied - check with the hotel)
Medicine Bag
Paracetamol
Diarrhea medicine
Plaster
cough drops

---

And now,... it's just a matter of wait and see.
I will let you know what I forgot this time!


Back to Top
---

Comments
I think Bimmel has adopted your house and your family  ;)  He behaves as
if he was at home. You have also adopted him as you gave him a name  :) 
Your scarf is "funny"

If I were you, I would put all the chargers and the usb cable in my
handbag just in case your suitcase got lost forever. It could be
difficult and take time to find matching chargers and cable.

In your handbag section, you should maybe tell that you will put your
lip balm, toothpaste, cream, and nose drop (less than 100ml each) in a
transparent plastic bag to show at the security toll; and that the
water bottle is only useful when traveling from your home to the
airport.
Some people also take paracetamol and diarrhea treatment in their
suitcase just in case.
No book or magazine for the plane? Do you plan to play, watch a DVD,
or write during the flight?
Maybe you should also take a small back pack just in case you walk/do
some sport (driving a water sky "bike" again?) with your mother.
...
Maybe, this trip would be the good time to start your twitter ...
I also hope that you will have a wifi connection at your hotel to have
an online webcam report from the swimming pool  ;) 
Maybe, it is not a great idea to take your laptop with you as you will
not make a clean break from computers. I hope, at least, that there
will be a vault in your room to have your mind free from the thieves.

Have fun with your mum. Recharge your "batteries" with energy and sun
(I was feeling better when back from Morocco because of the sun I saw
there).
Bring back some sun  :)  (here is gray, rainy, windy, and maybe snowy
later in the week)


Take care, kisses
Have a afternoon tea with the ladies.

Carine


---
Posted by: Carine Date: 23/01/09
---
I will update the list with your suggestions. I am lucky because my mum has a backpack, but you are right: A light backpack can become a live saver - as does paracetamol and diarrhea medicine, especially if you don't know the country and the language well.
And yes! There will be wifi - It's more a matter of how often mum will let me to access it... So I got me the suggested Twitter account on: http://twitter.com/RikaNauck for quick updates. Hope it'll work out as planned!
---
Posted by: Rika Date: 24/01/09
---
Culture
Haldi KumKum
Live & Let Live
Why: "How 2 Kitchen"
Money
Money, Money, ...

Motivation & Fun
Who's listening?
Eureka Moments
Inspiration vs. Motivation
The real Teese
Tummy & Co
Obsessions
Nine Words
Cycle of Life - Some Thoughts
Internet and Branding
Brilliant Business Women
The Typecast Trap
Garden without Fuss
Mills & Boon
About Veg
Pushing the Limits
About Criticism
Forum on RFOS
Achievements
Bringing it together
Reflection...
...Bringing it together-Part 2
Time Management
Passion
Creativity
Relationships: Cliché!?
Incredible List of Rules


Movies
The Invention of Lying


Networking
Nerds VS. Dilettantes
Knitting 21st Century Style
A Network Is A Home
Serious Game
Networking Strategy


Restaurants
Milsoms - Kesgrave Hall
Court Restaurant London


Techie Stuff
IL and the Internet


Travel
Ideas
To Sumatra as Eco Tourist

Bad Nenndorf
Two Gals no Men: Wellbeing
London
A Posh Day Out!
A Market Day Out!
Fuerteventura 2009
Travel Diary
Travel Read

Fuerteventura 2008
Fuerte - The Island
Fuerte - Dirary & Club Life
Fuerte - Shopping
Fuerte - Jet Ski
Fuerte - What else?

Tuebingen 2008
A Day out in Town
The Gallery
Misc
Natural History Museum
What I Pack
Lowestoft Airfestival