Fuerteventura - What Else?
Snorkelling
Apparently there is good snorkelling in Corralejo, the north of the island - so I was told on my way back by a fellow traveller. However, searching for tour providers, I found the advert of AquAVentura, snorkelling excursions, Caleta de Fuste which looks rather promising. It is close to the airport, and thus more in the middle and accessible for the north and the south half of the island. Could be worthwhile a shot the next time. At least the pictures give an impression what one can expect to see. Although be prepared of the cold water. The girl I was travelling with told me, that they were wearing two wetsuits on top of each other.

---

Wild Donkeys

When my mum came to Fuerteventura 18 years ago there were still big herds of wild donkeys, but these days she only knows of three of these guys in the area.

I wasn't fortunate enough to see them - and I love donkeys so much. However, I found some proof that they are still around and that they are walking the pathways which we use to get down to the beach.

---

Goats

Goats are very modest in their food requirements and are coping well with the scarce resources of the island. They are actually everywhere, but are hard to see as they are matching the landscape in colour and shape all too well.

In the picture are at least 6 goats - well, told you...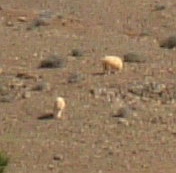 ---

Little ones
Pole sitting seems to be a common pastime

---


Cacti and Cochineal Lice

Fuerteventura was and to an extend still is the home of the cochineal lice which grow on certain cacti.

They get harvested with dustpan and brush and then processed to get hold of the red dye which is used for example to make Campari red.

Not sure if they changed that now - but better check the bottle.

Well, at least these little fellas had a nice and sunny life before they went into the cook pot
Culture
Haldi KumKum
Live & Let Live
Why: "How 2 Kitchen"
Money
Money, Money, ...

Motivation & Fun
Who's listening?
Eureka Moments
Inspiration vs. Motivation
The real Teese
Tummy & Co
Obsessions
Nine Words
Cycle of Life - Some Thoughts
Internet and Branding
Brilliant Business Women
The Typecast Trap
Garden without Fuss
Mills & Boon
About Veg
Pushing the Limits
About Criticism
Forum on RFOS
Achievements
Bringing it together
Reflection...
...Bringing it together-Part 2
Time Management
Passion
Creativity
Relationships: Cliché!?
Incredible List of Rules


Movies
The Invention of Lying


Networking
Nerds VS. Dilettantes
Knitting 21st Century Style
A Network Is A Home
Serious Game
Networking Strategy


Restaurants
Milsoms - Kesgrave Hall
Court Restaurant London


Techie Stuff
IL and the Internet


Travel
Ideas
To Sumatra as Eco Tourist

Bad Nenndorf
Two Gals no Men: Wellbeing
London
A Posh Day Out!
A Market Day Out!
Fuerteventura 2009
Travel Diary
Travel Read

Fuerteventura 2008
Fuerte - The Island
Fuerte - Dirary & Club Life
Fuerte - Shopping
Fuerte - Jet Ski
Fuerte - What else?

Tuebingen 2008
A Day out in Town
The Gallery
Misc
Natural History Museum
What I Pack
Lowestoft Airfestival