Fuerteventura – Jet Ski

We got picked up very much on time by 'Jet Ski Tours Jandia' at the front gate of the club. It later turned out that they are operating a speed boat as well under the name of 'Bala Roja', and that apparently they are planning to invest into these 4-wheel bikes I only have seen as beach buggies in movies before. Those little thingies seem to be very much in fashion now and can be driven with a car driver's licence – hmm, that could be something for next year?!?

But now to this years 'jet ski experience'.

So we got picked up and I guess these two young, handsome, Spanish fellas must have thought: 'Oh my God, what two old trouts are those'. Mum in funny shorts which actually are Hawaiian male swimming trunks, sandals and backpack and me in my usual red suntan avoiding long skirt, brown flip-flops and due to a fresh morning breeze a grey sports cardigan – well, my sports clothes are grey based and it's a really nice one, but admittedly this combination was a bit eye-watering.

Unfortunately not me!

However, those were exactly the jet skis we were using. The picture was taken from the advertising board in the club. We weren't sure if we would be able to take fotos, so we at least wanted to have some picture.

Gosh, I'd love to have her legs!
The guys kept their countenance and safely chauffeured us to Moro harbour where we were handed over to a 'Friendly Pirate'. It's the only term that jumps to mind attempting to describe his appearance.

Bandana, black irisading shades on top, dark long-ish hair and a bit scruffy in a cool way.

He - by the name of Gary - would be our tour guide and must have thought why on earth it have to be some touri-mums coming for a tour with him rather then cute girls.
However, we clicked when he very kindly explained the procedures, saying that a lot of people want to have the speed experience which he can't allow as it bears a lot of dangers.
THAT!... is me.

Not cool in bikini and live west - remember? ...me... hyperventilating in cold water and never, ever swimming in the Atlantic?... Hence the wetsuit.

I told him that we weren't here for a race but just to firstly, see if we can do this and secondly, that we would love to experience the island differently, and to get an impression of it from the water side. Apparently he is a nature guy and promised to show us the nicest places - and he kept to it.

Well, and most importantly: They convinced mum to get her own jet ski.

It turned out that the club charges €30 just for the booking and that the actual charge is €100 instead of 130. OK, that's still quite a bit of money, but in the end that appeared to be a fair price.

So we got tucked into our wet suits and then off we went!

The tour was fantastic, brilliant, … I have no words for it!

These machines are totally fail save and they actually need a bit of speed for easy steering. So even cautious mum gave that thing a bit of a treatment. The trick is to find the right angle to the guide boat to avoid its bow wave.

The formation has to be like the flight pattern of geese - well, not that far fetched anyway.

From the advert board and there was no need for us to stand up.
We were so lucky to have Gary as our personal guide – it was just us two. So we could stay right at either side of him without having to bother about other jet skis in front of us.
We slowly left the harbour, a bit wobbly and over-steering at first until we realised that there is no need to hold tight on the handlebars, and that only very little movement is needed to change direction. From then on we took off and we had enough time to enjoy the beautifully surreal landscape. It's a shame that I don't have pictures of that. It is so safe I could have taken a camera with me. There is a compartment for stuff on the jet ski where I could have put it. Well, that's for the next time.
The hills are so bare and every one has a different colour, with the cliffs in front where right at water level the waves have nicked away little caves from the rock. Every wave plunging in there got spat back at us, like from a big fish mouth. This island has a bizarre and very special beauty.
At the south tip there was a certain probability of seeing dolphins, whales or flying fish but that day they preferred not to show up. So Gary led us in a big gentle curve towards the ocean and the view gave me goosebumps.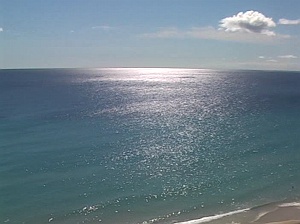 We were gliding into the most beautiful sunshine and an ocean made of pure liquid silver.
Mum, Gary, the guide boat,… I forgot everything around me. This was the most glorious bit of nature and 'ME' bang in the middle of it – all mine!
Going back along the coastline we enjoyed even more, now that we felt queens of our vehicles. And then Gary had a special treat for us…instead of turning into the harbour we went past it leaving the lee of the island and found ourselves in bumpyer water.
Ha, and queens of our vehicles we were!
After a few moments of astonishment we quickly got used to jumping the waves. During a brief moment in which I fell back a bit I saw mum in her dark wet suit, on her yellow jet ski, with her cool pitch black shades dashing along at the other side of the guide boat, jumping the waves and hooting like a lorry driver.
Pure Bliss!
All I can say is: Take your chances and just DO stuff! Mum's first reaction was: 'You do it, I pay, but I'm not going on that thing.' Then we reached: 'Well, I might sit behind you.' And in the end she was riding her own. Now that it is over I know that it is achievable and not even that difficult, but I didn't know that before. We both had an experience for life, so much fun and a wonderful feeling of accomplishment. This is something nobody can take away from us.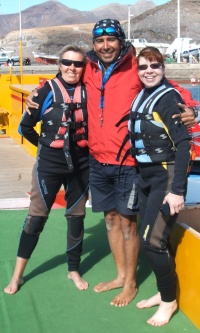 Thanks Gary!
You've been a great tour guide and it is an honour knowing you!
_________________________

Tip: If you want to book a tour that is advertised by a club or a hotel, but operated by a subcontractor – get in touch with them directly. That can safe a lot of money as clubs and hotels tend to charge quite a bit for their services.
Culture
Haldi KumKum
Live & Let Live
Why: "How 2 Kitchen"
Money
Money, Money, ...

Motivation & Fun
Who's listening?
Eureka Moments
Inspiration vs. Motivation
The real Teese
Tummy & Co
Obsessions
Nine Words
Cycle of Life - Some Thoughts
Internet and Branding
Brilliant Business Women
The Typecast Trap
Garden without Fuss
Mills & Boon
About Veg
Pushing the Limits
About Criticism
Forum on RFOS
Achievements
Bringing it together
Reflection...
...Bringing it together-Part 2
Time Management
Passion
Creativity
Relationships: Cliché!?
Incredible List of Rules


Movies
The Invention of Lying


Networking
Nerds VS. Dilettantes
Knitting 21st Century Style
A Network Is A Home
Serious Game
Networking Strategy


Restaurants
Milsoms - Kesgrave Hall
Court Restaurant London


Techie Stuff
IL and the Internet


Travel
Ideas
To Sumatra as Eco Tourist

Bad Nenndorf
Two Gals no Men: Wellbeing
London
A Posh Day Out!
A Market Day Out!
Fuerteventura 2009
Travel Diary
Travel Read

Fuerteventura 2008
Fuerte - The Island
Fuerte - Dirary & Club Life
Fuerte - Shopping
Fuerte - Jet Ski
Fuerte - What else?

Tuebingen 2008
A Day out in Town
The Gallery
Misc
Natural History Museum
What I Pack
Lowestoft Airfestival