---

8th July - Training, Ice cream and more Training
Gosh, I am ice cream addicted... I have phases, last week it was burgers - just the meaty bit, but still; and no, I am not pregnant! I am wondering though, if my fat loss and muscle gain is resulting in weird reactions telling me what I should eat. Like carbos for energy, and protein for muscle building. I know that it is not just cravings, I am really hungry, and then I want those specific things... Weird effects, really.
Training is going well, incorporated an additional incline powerwalking session on the treadmill now to do a bit more for the old calves... well, and to burn off the calories from all the ice cream. The shoulders are eventually the first section to be finished on the Exercises page of the blog and I added some new Hightlights as well.
And on the photo front there are no news because the photo shoot had to be cancelled due to dear photographer friend having caught a bad cold. So I decided to contemplate the last one a bit more and asked myself why I am so keen on photo shoots. I have to say: I only can recommend it.
So have a lovely rest of the week and don't shy away when hubby gets the camera out during your next BBQ!
Love


Back to Top
---

1st July - Summer, Summer, Summer...
And I could go on like this! It is hot... and I am loving it! Admittedly at times I have to slow down a bit, but altogether the warmth is lovely. I like it in the gym when the muscles are all soft, and I like it that I don't have to carry the spare pullover, pair of socks or cardigan. Only our cats are a bit annoyed... and annoying. They have become even pickier with their food, as we do when it is hot, and a big part of my daily tasks is to lid and un-lid cat bowls to avoid fly infestation.
This eventually was an event-less week in regard to food; usually events have to do with eating, and I so much want to keep a rhythm for a while to become a bit leaner. But movie on Thursday 'Letters to Juliet' was quite enjoyable and not food related, and during the family fun day organised by BT for its employees at Adastral Park on Saturday I shipped around all the cliffs of ice-cream vans and hog roasts and stayed with my trusted sandwiches.
And pay-off came: This morning I saw the 65kg for the first time in years, which was worth a 'quickie' on the blog. Then I took a decision which was worth another blog entry. Well, and I did a bit of column writing as well. See, that is the good thing when a week is rather boring, at times the mind is starting to float and I actually get some ideas about what I could write.
So off we go into another warm and floaty week with a hopefully lovely weekend. Have a good one!
Love


Back to Top
---

I am back to the 'Where the heck is the time gone' mode. I can't believe that July is gone. I was so busy that again I didn't write a lot. Day job needs attending to once in a while. I have been training nicely and am very happy with that, we had the first BBQ of the year and it did NOT rain. And all of a sudden it is not raining at all anymore and the garden looks rather scorched.

Before I had to mow the lawn to accommodate some football game during the BBQ it was all lush and grasses and daisies flowering everywhere. And that apparently attracted a cute little visitor which I very rarely see in our area: a Goldfinch. Eventually at one day Detlef managed to take a decent picture of the little fella. I am very pleased.

Today it will again be about training. I have been editing the next training videos and exercise 3 and exercise 4 for the shoulders are live now. And now my bed is crying for me and I am wishing you a good night.

night night xxx
Love


Back to Top
---

What a week! Great Yarmouth Bodybuilding show already had set the pace, and although it was impressive, it has taken the scare out of it. I now know what I have to work towards, I know where the crux lies, I made a few contacts... and it will be just fine! One more year of exciting work ahead.
And then the photo shoot on Wednesday. It was so wonderful and fun, and I was so knackered at the end of that day, that I even almost forgot to upload my prepared files for IL. We shot 2405 pix and I am still not sure that I saw them all. The Picture of the Week is part of the series as well

Well, as you can see, I was a bit more daring than the last time and because I am not a professional model most of the pictures are of no use anyway. But I learned an awful lot, I was so confident in front of the camera, and Babul... oh my: He has become so good!
He now knows exactly what works and what doesn't and although we experimented a lot as well, we got some good shots out of almost every series we did.

This is one of the corset photos we took to enter into the Fairy Gothmother/Lulu and Lush photo competition. One can win £200 to spend in the shop. Well, it's worth a shot!

I will create a little galery for next time with a few more pix. Thanks to my B-Day this week I am running out of time again, as dear hubby invited me to London on Saturday for a B-day pressie shopping spree, during which I got me another corset... I am just hooked by these things. So hopefully soon I will have pictures of that one as well.
Actually, I was supposed to get an iPad, but they were all sold out. Now Detlef will order the iPad for himself since I already got my pressie. Not sure though, if all of those purchases are not actually for him in the end... hmmm?!?
Love


Back to Top
---

10th June - Oh it's one of those days!
So tomorrow is the day I have been working towards, trying not to get spots, scratches or bruises, collecting props and thinking about photo ideas: Babul is coming to town for another photo shoot.
Hence this is why everything is brought forward a bit, and I am writing this on Tuesday already. And of course today is one of those days!
The 'boyfriend jeans'

The plan was to get enough sleep and to be very relaxed and utterly pretty, and then I went to town to run a few errands and stumbled across a jeans shop called Aura.

Doesn't look too much from the outside, but boy do they have jeans - and boy do they know about jeans! Michael the owner is in the business for around two decades and he instantly knew what I was after. The ones of you who follow me on Twitter or Facebook will already know about my ordeal with jeans. Big legs and rear and slim waist just don't go well together. Aura however has American brands, quite expensive due to custom fees, but so worth the money.

So I got me two, one flare which was too long and hence needed fitting due to which I had to head town again today, and one 'boyfriend jeans' which is fantastically bulky and which I just love.

That cost me quite a few hours of my precious time for beauty sleep, but totally worth it! Then work was a bit more demanding than expected and I couldn't leave on time... and well, now I have to re-arrange my clothes a bit for quick access.

Hence there won't be a new training video today, although I have shot new ones last Saturday. So they are in the box and just need editing.

Outfit worn for Great Yarmouth trip
wished I would have had the jeans already!
This will happen from next week on again, and then I will have some footage from the Bodybuilding Championship in Great Yarmouth this Sunday as well. It was great and very encouraging, so that report will be up next week as well. And of course I will drop the one or the other picture of the photo shoot. I may even be able to add one for this edition, given that it won't get too late tomorrow.
For now I only have a column that contains a few thoughts about photo shoots and the weekly diary of the bodybuilding challenge.
Have a great rest of the week, and a lovely weekend
Love


Back to Top
---

3rd June - Photos, Videos and a bit of Narcissism
Given that this week has pretty much been under the sign of photography this diary entry will be very undecorated. It is all happening a bit in the future I am afraid, and hence there is not a lot to tell about. I am hopeful, though, to even be able to revive an old project: 50 years, 50 pictures, 50 views. Yes, I am still hoping to become famous or rich or both with a book. But the most important thing for now is Babul's arrival in London. He will come to Ipswich next Wednesday and we will have another photo shoot. Yay!
Well, and then, having had the bank holiday Monday this week and the gym being really rather empty, I took the video camera with me and filmed the exercises - 9 of them. It will need some time to get them all edited, but I managed to get the first two shoulder exercises published on Bloody Hell... Additionally I created a list of all the exercises I am doing, and will gradually link the videos in. For quick access this is one of the files listed in the right hand side menu of the blog.
So far so good, the facilities are in place, this Sunday we will go to Great Yarmouth to watch the bodybuilding competition into which I want to enter myself next year, photo shoots are arranged, now I have to seriously start rowing training and the posing stuff.
Since my video software was close to driving me bonkers today I will have to cut it short again now, as it got late again and I am starting to write rubbish. Have a good rest of the week and enjoy a hopefully sunny weekend!
Love


Back to Top
---

27th May - What might the neighbours think?
Yesterday I hugged the second very blue eyed man bang in the middle of my driveway within a week – hubby has brown eyes... well he has a brown and a green one, but that is not the point!
The deed of hugging itself might appear suspicious, these two gentlemen, however are of the rare species of blue eye which are recognised instantly and which makes it hard to look anywhere else. So I, being fortunate enough to hug two of them within a short period of time, might raise an onlooker's eyebrows.
Hence this is to confirm that my favourite eye colour in men still is greenbrown and that I have not embarked into a project not deemed appropriate to be executed in our nice and residential neighbourhood. This confirmation seems to be especially necessary given the fact that those two are mad petrol heads and showed up with rather cool vehicles.

The first one last Friday featured a Yamaha 1900, the coolest motorbike I have ever seen... Yes! Forget about Harley... and yesterday the second one rolled into the driveway with an unsuspiciously looking Passat, of which the connoisseur might instantly know that it has something like 300 horsepowers.

The acceleration of both vehicles is very impressive and I am not entirely sure if I feel more attracted by the power of engine or the blue eyes.
Well, the owner of the cool bike as a matter of fact, is a dear friend who picked me up for a coffee to discuss his business which is featured in this weeks 'support rural business' section.
His business is security and, despite the confusing eye colour, secure one can feel. If I would hire a bodyguard it would probably be him, just for the looks. But firstly that is not his business and secondly he is much too kind for that sort of job. Nope, his skill lies in what's in the head: He knows a lot about wires, electricity and how bad people think, and finds ways to hinder them doing you harm.

The business is located in Diss, basically covers East Anglia and is called Hearts Security. No, that's not his name... although it actually should be... it's the company name, and it's what you will get. The guy is really brilliant, otherwise I wouldn't recommend!
Well and blue still is the theme - his van is really rather recognisable, too; and the only one with the white stripes on the back as well. So if you see this beauty somewhere in the street deciding that your alarm actually does need maintenance... why not go and have a chat with the guy.

The driver of the dashing car who fell victim of yesterdays hug attack is hubby's best friend from school days waaay back in Germany and he came to visit us. Detlef had seen him a few times in Germany, but for me it was a first after something like almost a decade. That definitely deserves a big hug. And thus I will have to cut this edition short. He is staying for three days and we of course want to make the best out of it... what means too much food for me for three days, but what wouldn't one want to do for an old friend?

So dears, I might see some of you at the Afternoon Tea this week and for the rest of it have a lovely weekend.

Tata


Back to Top
---

20th May - A lot of TED and a lot of happiness
I stumbled over some TED talks recently, one of which was dealing with the matter of what makes us happy.
Dan Gilbert asks, Why are we happy?
I found it a very interesting talk, since in there it is claimed that "We are able to synthesise happiness, but that we still think it is something to be found". Maybe this is rather close to what I call the 'Glass half full' attitude, meaning the ability to see the good in any given situation and then to work from there, as opposed to 'Glass half empty' where all the bad things are highlighted and subsequent action is nothing but moaning.
This guy is right: As soon as somebody is voicing opinions about all the good things happening out of a bad situation we call it 'whitewashes', thus diminishing the feeling of happiness. Maybe because we are jealous of such a positive attitude? Well, in this talk however it is suggested that it is NOT just whitewashing, but true happiness. Maybe a bit of whitewash training would in the long run teach us all on how to become truly happy people.
Another thing that I found striking is that apparently people who take finite decisions are happier, than people who are keeping their options open. Since I truly believe that any decision is better than no decision I am somewhat thrilled that I may be doing something right in my life.
The other talk I found was from Nathan Myhrvold on archeology, animal photography, BBQ ...
The subject is rather unrelated, his last phrase made me think, though. This guy is doing so many things and is so successful with it. He is living proof that it is people who have many interests are able to think outside the box, and he seems to excuse himself for the fact that he never managed to focus.
And again I see a similarity to my own life. The 'nerd vs. dilletante' issue. Isn't it astonishing that a guy this successful has the notion of being unfocused?
To stumble across two great people who sort of confirm that what I feel is right, or at least is 'not wrong' makes me happy. I may appear pathetic drawing happiness from such a thing, but IL has grown out of a lack of confidence; I have been working hard to find my own reasoning for certain characteristics of my personality, and whether or not I should change or stick with what I have. I sometimes have been struggling to 'see the glass half full'. It is just nice to see that my little life has issues that are worth studying, and that it seems to be rather normal to doubt ones focus as even great people do so.
It works as a positive reinforcement: I am even keener now to find happiness in simple decisions, I am even more focused in being unfocused. It is inspiring to find like-minded people higher up the rank. And then I found another talk which might explain why that is:
So today I feel a bit like a school girl who has been writing essays for three years now and eventually got a pat on the shoulder.
Ahhh... happy!
Love


Back to Top
---

13th May - Time warp: Back to my roots a bit differently
I am inspired! I'm not sure if this is a good or a bad thing, but I can't help it. The indifference in regard to my new inspiration comes from the fact that it opposes my Bodybuilding efforts. Well, not the sport efforts itself but the food issues that come with it.
I am food inspired!

Last weeks MySecretKitchen food tasting party coincided with me watching three series of Heston Blumenthal's fantastic feasts. So I tried myself on an 80s inspired cocktail party style dinner and it shows that I still have to work a bit on some of my presentation skills... everything liquid is rather tricky to handle...

... and that is where my ambiguous feelings regarding the whole issue comes in: I have loads of ideas which will allow me to practice, but that means that I have to eat loads as well in the process.

Oh well, what would life be without challenges.
What that has to do with 'back to my roots'?

Did I ever tell you that I once in a far, far away life studied three semesters of Chemistry? That I always had an interest in what chemical reactions actually make food work for us? That there was a guy called Hervé This who in 1996 published his first book in Germany about exactly those matters, and that I was fascinated and learned a great deal of kitchen skill from it?

Now: When I saw Heston Blumenthal's first series of FeastsI, already got reminded of those books. After I watched the one about the 70's feast recently, I eventually researched the matter and on the German Wikipedia site of Blumenthal and This is depicted that good ol' Heston indeed got inspired by the Frenchman.

Am I good or what?

So now that I am having all these ideas in my head and my old chemist's blood is boiling, I am reading those books again and got me 'The Fat Duck Cookbook' and 'Heston's Feasts' as well.
Not sure about recipes like Snail Porridge, though! Despite the picture: It doesn't have live snails in it, and I know that some people actually enjoy eating those little buggers, but this is about where I have my limits. So no worries dear friends: I will not stretch your imagination and palate too much in my creations - I am a bit squeamish myself. Additionally he is using equipment a Chemist in his laboratory would be proud of. So a lot of these things are not to my disposal anyway... shame though...

Another limitation is money... some of the ingredients are incredibly expensive, like the truffles.
The inspiration and the pictures provided by the Cookbook are breath taking, though. Whether I will ever try to cook some of it or not: The book is worth it's money just for the pictures.
I am now very interested in what the future will bring. I definitely will do my rowing and bodybuilding challenge: Last week I have started the rowing training and did the new Bodybuilding split for the first time - which is working great! And I definitly will dig deeper into the treasure box of inspired cooking.
Sometimes it's good to look back to find a window into the future!
And with this I will leave you for today, wishing you an inspired rest of the week and a dreamy weekend
Love


Back to Top
---

6th May - On my way to USG and Success!
Time is flying, days are still too short despite the light saving schedule and the wind is still too cold. I am  starting to get the hang of my new schedule which includes the day job, the nitty-gritty bits, the rowing and the gym work, but still didn't have an single week during which I could stick to it entirely. There is always something else barging in and I am beginning to understand how life will be changing if one really goes for a challenge.
But I am liking it! It is a bit stressful, but for some reason there are bits and pieces falling into place unexpectedly, and from something idiotic something good arises. I fixed the date for the food tasting dinner with MySecretKitchen products several month ago for this Friday and now it turns out Babul will be coming end of the Month visiting me for a photoshoot. Of course I want to be looking my best, so having intensified the training was a lucky coincidence, but the hair laser thingy needed to be done again.
I anyway wanted to get it out of the way before the sun would leave a tan, given the English weather however, there wouldn't be such a rush, but with a photoshoot coming up I need about three weeks to get rid of the black ash dots. So I had to take an appointment TODAY! Hence me being a bit knackered and asking for forgiveness, should I be writing too much rubbish. Two hours of laser blitz and nippingly cold air with the steady click click noise of the laser made me somewhat numb.
I parked in the middle of town as close as possible to the clinic, wanted to pay for the maximum four hours which is £4.70, and the silly machine stopped taking coins at £4.60 - in desperation I pressed the green button, the ticket printed and it was only two hours...  Darn, I needed to run some errands and was preparing for a 3 hour session... That might exceed the 4 hours maximum parking anyway. Such idiotic parking arrangement, and then on top of it all the machine is not working.
While thinking through the options the door of a little booth opened, a nice parking guard came out, scribbled something on my ticket and gave me 5 hours - sometimes a girl needs some luck
In the end I didn't even need it, but I had the peace of mind while having the treatment. Now it is done and over with and in a few weeks time my legs and a few things more will be wonderfully smooth. Additionally the menu for Friday is sorted, the website is in work right now, and it even seems that my videos are successful. Well, not super-rich successful, but successful enough to earn me £ 4.73 in one month. A while ago I reported that my Basic Tummy Exercises video became eligible for advertising on YouTube, and although I am not a big fan of internet advertising, I gave it a shot, thinking that earnings could go straight into my Orangutan Land Trust Justgiving Page. And yesterday I got my first account statement! One only will get paid once £ 60 is reached - still some way to go - but it rolls over into the next month and I might get an advert linked to other video.
So yes, that definitely cheered me up yesterday. And now my dear ladies I'd like to wrap it up. Sitting is not the most comfortable past time at the moment and just in case you are bored you might want to pay the Challenges blog a visit. I have written an article this week which you might like: 'It's a Female thing'
So long, Tata, Salu and Tschüss
Until next week
Love


Back to Top
---

The updates here are likely to open with the word: 'Again...' in the future. I just finalised my training schedule and it seems that spontaneity will go a bit down the drain this summer and repetition will be key! I am only hoping that the outcome will vary with a trend towards 'Up' in what I can lift, and 'Down' in what I weigh.
This week it is: 'Again a week of little food and quite a lot of sport, and again... I didn't row properly'.

Hence the urge to eventually get the training plan done. Once it is written down then there is no excuse, like: 'I wasn't sure when to do it best.' Everything is well thought through and now it needs to be trialled.

Well, at least the reduced intake of food seems to be working - the weight is slowly going down and given that my clothes feel awkward, nipping in places they didn't do before, but being more loose in others, I am guessing that I didn't lose muscles but fat, and that I might have even gained a bit of muscle around the behind. In order to get a proper before/after assessment I now have measured myself.

The whole thing is starting to backfire a bit because none of my trousers seem to fit anymore, and given the circumstances I am not in the mood to pay a lot of money for new ones, the more that I am not sure to find something that fits. So clothing will have to become a major issue in the future.
This week however was under another wonderful star as well: Detlef and I went behind the scenes at Colchester Zoo and came close up with Rajang and Tiga the Orangutans for a primate enrichment session courtesy of Grainne McEntee from BOS-UK.

At first the Limas needed feeding, though and although I always quite liked them they never compared to the great apes. Being so close and feeding them, however changed my perspective entirely.

They are so very cute and haver very tender hands, pulling ones arm for more food or digging into the bowl for the best bits - which by the way definitely are bananas!
Colchester Zoo is just wonderful. The enclosures are beautifully made for the benefit of the animals and although they are wonderful to look at the focus is not for people; it could well be that one cannot see certain animals because they don't feel like it and hide away.

The zoo is taking part in elaborate breeding programs and the most recent additions are a pigmy hippo, rhino, meerkats and the lima baby twins in the picture above. Well and while we were marvelling over the Africa enclosure with several rhinos, ostriches, cranes, and giraffes, two of the latter engaged into their typically weird way of expressing fondness.

It takes one wondering why they don't get a whiplash

He seems to be a rather busy fella, the bold patch on his behind is much bigger then the one of the lady. Men!

We are now looking forward to news about a new giraffe baby.

.
Giraffe Love Play
It got rather late now and I will call it a day. I hope you like my account from Colchester Zoo, and should you go there for a day out: Please say 'Hello' to Rajang, Tiga and the Limas from me!
Hope to see you at the Afternoon Tea this Friday,
Love


Back to Top
---

22nd April - It definitely is a PROJECT!
Courtesy of Jessica McKelson

What started out as just a plan to compete in a BB competition now turns out to be a real project. Meaning: Project management is needed because a lot of things have to come together. Hence basically the 'back to the roots' approach in regard to the sport, is now bringing me back to the roots of Incredible Ladies.

There is a lot to consider nutrition wise especially when different food personalities are living under one roof, time management has to be adjusted especially when different lifestyles have to be brought into alignment, and the admin structure needs to be created meaning fund-raising pages and promotion material have to be set up.

All of a sudden I am reminded that this is a bit of a 'chicken and egg' situation and that one thing only can work when all the rest is falling into place as well, while it is not entirely clear what has to happen first.
I probably should read my own website more often.
And it doesn't really matter whether one wants to get into the desired shape, or if one would like to learn how to sew or take great photos, does it? As soon as the wish for achievement is entering the room a whole load of other stuff needs to get sorted as well.
I however feel that it is a good place to be in, it makes me aware - again - that quickfixes don't work. I have been reading and browsing a lot these past almost four years, and boy - have I read a lot of bullshit on how to get things done the easy way. Now I even learned that fat cells grow back after liposuction - brrrr! I still will have to prove that one can get rid of orange peel by training and good skin care; the quickfix is not working for sure, except if one changes to a better lifestyle. Well, that change could have saved the whole operation in the first place.
Focused and motivated I am now going into my 4th week - I can't believe it's such long already. The crowd of supporters is slowly getting bigger and they are following my quest from all over the world. The fund-raising is on its way since today and now I need flyers and a date for the rowing marathon. Getting there!
So please have a look at the blog once in a while. I am updating more often than once a week and as mentioned before: It's not just about the sport, it's about getting the hang of the rest of the stuff as well.
Now let me wrap it up for today, this lady has to get her beauty sleep! Good luck and all the best to all of you who are stuck somewhere due to the volcano, I hope you will be home safe and sound soon!
Wishing you all a great rest of the week and a sunny weekend,
Love


Back to Top
---

15th April - Blogs Blogs Blogs
There you are! I am well on my way and very determined... and I am happy! I am feeling so 'at home' in this project. At the moment there is hardly anything else I can think about, and hence there is not a lot I can write about here at the moment.
Except of the second part of the interview with Michelle Desilets on ' The WildLife with Laurel Neme'. It is such a joy to listen to a first hand account on how Orangutans are taught to be Orangutans. She even is talking 'Orangutan' a bit.
For now I am hoping that even all of you who are not particularly into Bodybuilding will like my blog. I would love to hear your opinion - everybody can comment on the blog, no login needed.
See you next week
Love


Back to Top
---

Oh what a week it has been! It was a week of ideas and decision making and pushing things into a direction. Voices from my past which quite shyly told me to go back to my roots last week, started to shout louder this week, and reminded me that the whole IL idea was to follow ones dreams. Ok! Heard it! Will do! So now there is a new kid on the blog - a diary of my challenges to be achieved by 2011, one of which is a dream that is bugging me since 35 years.
And then I remembered a TED talk by Randy Pausch which impressed me so much (here is a related, shorter video). Again it is about achieving dreams and the use of head fakes. I like this term: 'Head Fake', meaning doing one thing to actually achieve another. I had been thinking about doing a rowing marathon this year for such a long time - and haven't done a bit of training, yet. I somehow liked the idea more than the doing it. Now that I had this new sports challenge, the rowing all of a sudden became a head fake. If I would put a big effort into rowing training, I of course would be able to do the marathon, but it would have huge benefits for the new challenge as well. It would become step one on the way of achieving my old dream.

Sometimes letting go of one focus and finding another is a good thing. All of a sudden this rowing training became very attractive and this morning I found myself on the rowing machine for my first half hour session, and I can't wait to get back on that thing again.

The main head fake of the Randy Pausch's talk was, that it was not intended for the audience but his kids. It is his legacy to them. And still, this voice is whispering to all of us. There are two things that struck me most: The first one is, that brick walls are there to show us how badly we want something. This is wonderful - it does not mean that we HAVE to tear it down. It only means that we should stop moaning about it, because if apparently we don't want it badly enough, so what is the point of fretting about it? Rather move on and do what we REALLY want to do!
The other thing that struck me is that if you lead your life right, that then dreams will come to you. That sounds very spiritual, and I don't know if I am interpreting this correctly, but I think he is right: Sometimes we are trying to hard. I have to admit that once in a while I am doing the right things, but sort of for the wrong reasons.I don't mean cheating - it's hard to explain - sometimes I do things because they seem to be appropriate to reach a goal, it may be something that makes sense in a technical way, or it may be the wrong order in which tasks are executed. This usually is the result of hitting a brick wall, and taking a short-cut, using strategies that work for others instead of finding my own personal way. This always feels like being in the wrong place at the wrong time and living somebody else's life.
See, when after all my past moaning I decided, that I will go on running this site despite not having real success with it, will keep shooting my videos and will keep pushing on with my projects - and that I will do it for my own fun and enjoyment, because that is how it should be done - just the next morning I had a wonderful fan letter in my inbox, from a wonderfully incredible lady urging me to proceed in what I am doing. Then I found this competition advert, reminding me of my old dream, and today I even got an email about an event that could become the backdrop for the rowing marathon.
All my brick walls gone in a jiffy - all I have to do now is working hard and enjoying the ride.
And then I found some more inspiration via a voice from the internet. I have been reading a lot about Michelle Desilets and her charity 'Orangutan Land Trust'. It is the charity which IL is mainly supporting. And now eventually I have heard her voice in a striking interview. It is amazing how one can talk with so much passion about her life, the orangutans, the projects and yet there is nothing judgemental in her voice or phrasing when she is depicting the brick walls she and her colleagues are regularly hitting. Those problems are there, they are fact, they are there for reasons, let's do something about it! What an incredible lady! There will be a second part next week.
So yes! Life is good! We have reasonably healthy bodies, we have brains, let's use those in our individual unique ways to knock over the walls we really care about and let's have a lot of fun doing so!
Always yours


Back to Top
---

1st April - Not a joke: Taking you back to the roots
The IL roots that is! I had a few incidents recently which make me feel like stepping back in time to the beginnings of IL - actually before IL. Although I am much fitter now, nothing seemed to be working out. All my wisdom seemed to be long forgotten and even my drive for sport had been lacking for such a long time that I feel rather breathless, powerless and wimpish.
So I decided to read a few of my own articles - if they were any good they should bring me up to scratch again; it's three years after all that I started writing for the site: Time to warm a few things up!
Sometimes it helps to just be aware of how the body works, so that one knows that one is not alone in this, and then there are the little helperlines which can incredibly enhance the chemistry in the body and hence lay the ground for all the rest. And So here is my selection from the body, health and nutrition section:
Well, and when I started writing back then I did so about my sport. See, and there is the dilemma. I was inexperienced and I wrote about what I knew and what was important to me at that time. I quickly realised that my experience is not about sport, but about being passionate - for whatever. And I realised as well that by writing about sport a lot, I already had put off quite a few people from reading the site. In the meantime none of my friends from back then is reading the site because they still think that it is a Bodybuilding site.
I was so desperate to please them and to get them back, that I entirely neglected the sport section. I haven't written about sport in about one and a half years, and the bodybuilding section is still incomplete although I have all the pictures sitting there ready to be processed. Back then I didn't understand how the internet works and how loyal behaviour in the internet is created. Not that I have become better in that, but I surely I have now decided for my lifestyle to focus on sport again, and I will do so on the site as well. Here is to catch up with a few of the articles we have already:
| | | | |
| --- | --- | --- | --- |
| | | | |
Now I am getting to the bit which a lot of people call 'airy fairy', but which I think is the most honest of the sections. Every article was written at a time when the issue was bugging me, and writing it down in a way that it didn't sound too much like a rant, helped rather well to thinking the matter through. Apparently there have been quite a few things bugging me - the number of articles and columns is really rather big; so big even that there was a point when I gathered the first year's pamphlets, worked through them again and wanted to publish them as a book. Oh yeah, dreams! Of course no editor thought that somebody would want to pay money for the wisdom of an old cow from the provinces. So the manuscript is sitting idly on my shelf. But here I would like to point you to the one or the other article nevertheless:
| | | |
| --- | --- | --- |
| | | |
And then there is one more little article which sort of sums it up. I wrote it almost two years ago and it was to go into said book. Well it's about time to publish it now:-
Have a wonderful Easter time and see you next week all fresh and full of USG!
Love


Back to Top
---

These days the site diary is more my own diary than anything else. Incredible Ladies have been all so busy that we didn't even make it to the movies. Well, and then it so happened that all of a sudden the hubbies and some male friends got all excited about going out, so we had some mixed parties what was very nice as well.
| | | | | |
| --- | --- | --- | --- | --- |
| Peach & Pineapple Flan | | That is the thing, though when you let guys organise something; by the time they figured out what they want to do and who is coming it is too late to book a table. So I gathered my cooking skills and prepared dinner... and I have to say: I loved it! So when hubby wanted to have a German cake party for his B-day I was only too happy to comply and started baking cakes. And it seems the theme goes on. In May I am planning for a food tasting which was initially meant to be an incredible ladies event until some guys started moaning. | | Strawberry Flan |
Mousse au Chocolat Gateau

Well, we are usually the ones who feel banned to the kitchen, so if they voluntarily want to learn more about how to use food and certain flavours... fine by me! I will keep you posted on this one, nevertheless.

The company selling the products is quite interesting and I will write a review of the evening and the products in general.

Grandma's Lemon Drizzle
Marble Cake Rum Raisin

For the rest of it: The gardening goes on and on. What started as a bit of tidying up now extends into a proper spring clean and today I bought a pressure pump for fence painting. Yep! We are getting really serious now.

It is a bit like calling ghosts: At first the trees got cut and now that the rear of the garden looks nice one wants the borders cleared as well.

Lemon Vanilla Cheese Cake
cracked but yummie!
So that done, one gets access to the back of the rockery which is falling apart and putting pressure on the fence - that will be another one of the tasks for next weekend. The fence, now deprived of all climbers and other rubbish, looks dreadful, but recalling the last paint session is just too painful. The woman needs better tools. Thank God for DIY shops and garden centres. Additionally I only will have my wonderful helper, my lovely cleaner who agreed to help me in the garden, for another two afternoons. After that I will be on my own again. So this is the year to revamp the whole thing giving me a break for another two years ... well, let's hope for that!
And now we are going in circles: That brings me back to food again. The garden looks so nice and big... that cries for BBQs! I am hoping for good inspiration from the food tasting, to be able to bring nice things on the table quickly.

So darlings, this is it for today. I didn't even find some nice articles or some other funny stuff. I hope you will forgive me that I will have to delay the How2Kitchen videos as well. Oh, and I haven't kicked anybody's rear in regard to sport for a long time, so let me do that quickly by showing off my mini success with the Basic Tummy Exercise video. I have more than 53,000 clicks now. That's not too shabby for an amateur, is it?
Wishing you a great run-up to Easter and a lovely weekend!
Love


Back to Top
---

18th March - I figured it out!
So please be prepared that I will keep boring you with my garden stuff for a little while longer. I reckon by end of the month I should be sorted - cross fingers. At least all that work will help getting rid of those darn kilos I have gained during the past weeks.

There is nothing poisonous about Oxygen as suggested last week - all that was missing is a bit of heavy metal to solve the problem. Since a few days I am up and running again and although my garden is far from finished I am not dreading the challenge anymore.

And a challenge it is. These are serious amounts of wood which need serious measures. So dear hubby ordered a shredder. Wow that thing is wonderful! When I however posted on facebook that the job would be done in a jiffy I misjudged a bit - it will need about two jiffies. After a couple of hours of shredding I am now back to the stage where I was last week with the pile. Just that now the hedge is finished, tidied up and even decorated with a few new primroses. Getting there!
Additionally I can announce that it is definitely spring: The cats are bringing mice into the house again. This little bugger just got away.

BTW: They are best caught in a square box aligned to a wall. They tend to run along the perimeters towards something dark.

Gotcha!
All this gardening and mouse catching is rather time consuming. As soon as I will have a bit more time I will be able to show you what else I have been up to. I experimented with creams quite a bit and had some rather pleasing results, and I am sitting on a video about garlic that needs editing. I am then planning to elaborate on the garlic issue a bit more and to do a few more 'How2Kitchen' videos - tomato sauce, probably? Suggestions welcome!
But for now I am running out of time, so I am hoping you will forgive me all those pictures of shrub clippings and my lack of wit. Have a wonderful and healthy spring week, and a lovely weekend!
Love


Back to Top
---

11th March - Is Oxygen Poisonous?
Truly! There must be something wrong with fresh air these days. I have been regularly working in the garden since about two weeks now, but I can't say it's doing me any good. I was out in the cold sunshine, and I was out in the drizzle - neither worked well for me. I am feeling a bit like in a chewing gum dream where everything goes normal speed while I am in slow motion.

I was rather successful, though. The tree pruning goes well-ish. I only will be able to truly say that when it is finished and I am far from it. As the pictures clearly show the garden is full with fallen tree stuff, the other side of the hedge looks similar already, and there is still plenty on the trees that has to come down.
Should there be no update next week look out for the news papers bringing a headline: 'Moronic woman hit by a falling trunk and drowned in fish pond.' That would be me then.

The wildlife however seems to appreciate my efforts. The clippings seem to be perfect mating places for sparrows and the bare branches are used as gathering and observation points by doves and starlings. Much better control over cat and food now.

I am hoping the trees will be appreciative as well and growing leafy bits again. Well, it surely will be beneficial for our summer activities. I am getting a first glimpse of brightness already.
Our garden is much bigger than it appeared before and I should be able to catch more of the morning sun now - given that there will be some morning sun... and given that I will ever get rid of this pile of wood. From next week on an upset neighbourhood will have to cope with the noise of a shredder.
And then dear weather Gods it's your turn. By end March the garden is supposed to be pristine. And beginning of April - that is when we have Easter - I am expecting warm weather! Heard THAT?!! WARM WEATHER!
Really, we need a break. So I am hoping to report from our first BBQ soon! We like to entertain guests at parties; with in-house dinners one however is rather space restricted, and hence I am looking forward to a good summer and long chats which always are a great inspiration for me. Like the one I had with a friend about how to keep the romance in a relationship.
And now I am closing with some make-up tips from Michelle Phan - should help the party outfit and the romance ;o))
Until next week, Dears!
Love


Back to Top
---

4th March - Why so Ghoulish, Dear?
Apart from the wonderful 'picture of the week' provided by the lovely Cynthia Ong, this week's edition has something morbid about it. This was not planned, it just so happened. Sometimes it is funny how people from different parts of the world are thinking down similar lines,or get inspired by similar things.
Take our good friend Nury. He usually is writing about all sorts of things, but this week he first commented on the Asian tradition of burning dead bodies now being allowed in England, and a bit later the basically cheery story of a Playboy Mansion to be built in Asia turned a bit morbid when the question was raised where Hugh Hefner might go when he dies, suggesting that heaven cannot be an option since he is already there. Poor bloke, everything comes at a price. I didn't read the rest of the week's columns to not get drawn any further into the subject of death and afterlife and rather attended to the usually enchanting columns of the 'Ever so Strange Animal Almanac', only to find a similar tune there. Firstly the tweet announcing the story indicated that this would be the last one - a tragedy by itself - and then, although in his always joyous style, Sir Pilkington-Smythe made clear reference to the afterlife as well. How astounding! All of a sudden the pen tailed tree shrew only played a supporting role, despite it being a rather jolly bugger.
Since now two of my favourite columnists have gone down that route I decided that it might be appropriate to join them with my own column investigating the question if our plans for the afterlife might be interfering with finding happiness in this world.
I now however will close on a delightful note with a link to Simon's Cat's YouTube video.
With best wishes for a non-morbid rest of the week and a cheerful weekend I am
Always yours


Back to Top
---

It's amazing how little nature cares about the weather. There is still sleet, the sky is getting barely brighter than a pale grey, and I still feel like going into hibernation, while everything in the garden is waking up. I now have to hurry to get there quickly, in order to have things ready for for the arrival of spring; a harsh task given my subdued state of mind. Trees need pruning. It's the kind that luckily would forgive pruning when in full sap, but then I would have to carry away even more plant material. These things grow like mad, probably they are weeds. So I spent a good 100 quid for gardening tools yesterday; an amount of money that if spent for a lush pampering session, would have done me some good indeed.
Looking at last year's article on gardening the picture is a completely different one. There are actual images showing plants in the sunshine and I am using words like 'wonderful'. All that happened so far this year was a mud bath in the garden and a bad splinter resulting in a blood bath in the bathroom - not even sure if I got the darn thing out.
So there won't be a flowery picture this week. The crocus already show a tiny head, but compared to last year it's a sad sight.

It's true, though: The outdoor air does the skin some good. All the central heating makes me shrivel like a prune. As I am typing I am sitting here with a thick layer of cream and gloves.

Even hubby is complaining, which is really unusual. I don't know why guys get away without having to pile tons of care products onto their skin. They are fine with a gnarled look - it's us who get measured by the looks of our skin. Oh, well... where was I? Ah... enchantment!

What we desperately need is some enchantment. Nury explained why the common robber is disappearing from our streets, and he had a few thoughts on how one is realising that age is kicking in. That is not a necessarily enchanting subject, and I am only mentioning it because this matter had been bugging me since a while, and now I found some answers which DO enchant me: Nope, I am not old, yet!

Well, and then it turned out that spending some time on Twitter & Co is having some benefits!

Not an advert for Dove, though! I either buy what is on special offer or I am experimenting in regard to efficiency VS stickyness. Admittedly haven't found the perfect hand cream yet.
Dita von Teese - who I adore - tweeted about a 'Hawaii Chair'. Never heard about such a thing, but that is what YouTube is for. Now I know what a Hawaii Chair is, and believe me: As a workout you may even prefer my Basic Tummy Video, which now has more than 50,000 visitors - Yay, THAT is enchanting!
For now I am wishing you a beautiful week, saying bye bye with a movie provided by Colchester Zoo, showing the adorable Rajang during spring clean.

---

Comments
---

Back to Top
---

18th February - Oh, what a week
This week I have been sitting at the computer flat-out, and I really shouldn't do this. Sometimes I am just not listening to my own advice. So how can I then expect others to listen! Oh well,...

But just doing one thing all the time, especially computer work, shows quite a bit of a negative effect. During the holidays my eyes had relaxed wonderfully so that I could see much better without glasses, and now my eyes are watering as soon as I take them off, my shoulder is starting to hurt like rheumatism, and lack of sleep makes me eat sweets secretly in hidden corners like a thief. Oh so silly, that is! So I am herewith exposing myself as bad example for you to realise that breaks are needed.

Well, it was worthwhile the effort, though. That is the other side of the coin. I was bitten by the working bug, I was inspired; so how can I ignore this for a some beauty sleep... the creative streak might fade quickly into oblivion and I would have missed the opportunity.
Part of he result is a rather exciting slide show about a heron catching a fish. I had posted some of the pictures on Twitter already, but I find the slides add a bit of drama to it. Another bit of outcome is that IL is slowly starting to change. From now on you will get to a slightly different layout when you click on the Rika's column link on the left side menu.
You might be thinking what the heck is so difficult about all those things, that I had to work all week for it. Yeah, there was one thing that was a bit time consuming and of which I am rather proud of. Detlef's new blog called 'Unravel the Web' needed a header and he was thinking about a little nervous spider watching its web disassembled. Since I am not brilliant in drawing I had to resort to drawing from pictures.

You do realise that I just said: Spider!

I am not a friend of this species and the idea of browsing Google images for suitable spider photos was a bit appalling. But I did it! And I am rather proud of myself now.
I hope that you will like my new, more gadgety things like slide shows and blogs. It would be nice to get your feedback, and to learn what else you would like to see.

For now I am leaving you with best wishes for a beautiful week, although still cold we had a lovely sunny day today and eventually Vinny cat was happy in his gras nest outdoors. That gives hope for more sunshine soon. So take care until next week,
Always yours!


Back to Top
---

11th February - Travelling, Birds and Fish
| | | |
| --- | --- | --- |
| | | Last week I was travelling to Fuerteventura again, as I do every year to see my mum and do a lot of girlie stuff. And as every year it was just lovely: At the beginning with a few clouds, which is good for a pale cheese cake coloured person like me, and later with pure sunshine. In typical German style we went to the nude beach and eventually I managed to go into the water, something that last year I skipped due to hyperventilation anxiety when the first cold wave hit my legs. Of course that is something that I cannot leave that way... I admit being a wimp, but not THAT wimp-ish. So this year I had a plan: Running like mad into the water, turning round before the wave hits, starting to scream like a psycho, and hitting the water like a mad windmill... It worked! The wave ran over me, I was wet like a drowning cat and by the time the second wave hit, I started to enjoy the crystal clear water. |
Luckily this was not the moment when fish came into play. That happened when hubby sent me a picture which now is picture of the week. The quality is not that good, but the model being photographed was not very patient. A heron, possibly the same one that came for fish last year, was back. And this year it got lucky - the pond is empty. Our goldies where about four years old now and a fat bite. The one on the picture apparently posed a bit of a problem size wise, and in the end got airlifted. Well, it's a bit sad for the goldies, but the heron wants to live as well. It even was back this afternoon, staring at the empty pond. After a hard winter it's crunch time for birds I guess; we have quite a few strange visitors come to our tiny garden at the moment, like a crow and a fieldfare.
Oddly enough the encounters with long legged birds did not stop there. When we were walking along the beach we saw two Crowned Cranes being fed by a man. This was rather surreal since we were pretty sure that they are not a native species of the island. Turns out that they are a couple, the man is feeding them since four years and hence they are tame to him, that he - the crane, not the man - escaped from a nearby zoo, and that he found his wife as daughter of another escaped couple.

Apparently these two fell in love at first sight and already raised a boy a couple of years ago. If that goes on that way then Fuerteventura might soon have it's own wild population of Crowned Cranes.

And finally a picture to prove that the weather was wonderful and that I had a great time.

Only a couple of hours earlier I was frolicking in those waves and got battered with sand when having a sun bath.

Now after two days of being back, routine is kicking in, which generally is a good thing - if I just wouldn't miss the sunshine so much, today it even started to snow again.

Again I am apologising for the bad quality of the picture, but this was one of the first, cloudy days and the iPhone didn't give be a better outcome. I am however glad to have a picture - These fellas are so pretty!
Thus looking forward to spring, a bit of gardening, the first breakfasts on the patio and garden parties I leave you to dreaming a bit about your own holidays. Only seven weeks to Easter - piece of cake to get there!
Love


Back to Top
---

4th February - On cats and cheating
| | | |
| --- | --- | --- |
| | | Something I feel obliged to update you on is the cat situation at our house - just in case somebody should be following this thread. You may remember the fattest, cutest cat which is NOT ours? And which is not supposed to be ours since we already have the two others... which thankfully do not beat each other up anymore as they used to. |
This came to happen when bully Moritz felt a bit fragile due to hair balls and hence upset tummy, while fearful Vinny had a good moment - they met, looked at each other measuring their strength and since then just ignore each other... and in a jiffy our life had changed. Now we have open doors, closed windows, and even plans for holidays together, since with well behaved cats a house sitter becomes possible.

These days cats are coming and going as they please... and oh well, there we are back to our white, fat friend: He does as he pleases as well. We tell him every day that he does not live here, while he is thinking about which of the various sleeping places to choose, the favourite being an old cardboard box which unfortunately has to be on the dining room table. If I try to move it hell breaks lose - oh my word, that cat can talk. So it seems that we got adopted again.

Once in a while when he gets all too boisterous, he is put into his place by Moritz who has developed into one of the most patient cats. It seems that these furry fellas are better in negotiating a pleasant lifestyle than most of human kind. Interesting!
See as well my previous accounts on cat handling procedures: Live and Let Live, what we can learn from cats and Going Cat Bonkers
Since we are on the subject of getting on with each other, I stumbled over an article in the Daily mail recently depicting the different viewpoints of male and female cheating. Again: Interesting! But true as well? Of course I had a few thoughts to add.
For now I am wishing you a peaceful rest of the week,
always yours


Back to Top
---

28th January - In the producer's chair
What a fun week that was. Oh I love making videos! I may not be good at it, but that will not constrain my fun in creating them. I have thrown myself into a series of videos for utter kitchen beginners: How2Kitchen. See, I keep hearing: 'I have never learned how to cook' as an excuse for not even attempting to get the hang of some food issues. So I thought I'd explain it all, and nobody will have this excuse anymore.

Am I mean, or what? As a little compensation, the first recipe I am showing is Hot Chocolate, though. If that is not an incentive to find out where the kitchen in the house is, then I don't know what will be.

Well, I am hoping that my recipes are not too off-putting to kitchen enthusiasts now because everything is explained and elaborated left, right and centre. But one can't please everybody anyway and since there are a gazillion cooking shows around for the pros, I will keep producing for the beginners.
And then I got it officially: The worst of winter is over the days are getting longer. That is one of the reason why Haldi KumKum is celebrated - and I was invited to a friends house, hence the forehead decoration.

So I enjoyed myself last week, despite my failed attempt to buy some decent outdoor trousers. You know... the combat, loose fitting kind. I even went into the decent outdoorsy shops. Well the size that would fit around my waist if I would get it up there stops around the knee. For crying out loud: Are there any clothes out there for big bummed/legged girls? This is a matter that needs further investigation and I will keep you posted.

So for my holidays at Fuerteventura which start this Saturday I chopped off the most unsightly pair of pants I have - and used last year. At least it looks somewhat funny/weird - pix of the chopped version to follow!

For now I am off and packing my suitcase, but don't despair: Hubby will do an upload next week while I will be either sitting in the sunshine or slurping a cocktail at the bar...

Thinking of you!

Cheers, bye bye, so long and Tata,

Back to Top
---

21st January - The gloomy third week of the year
How am I supposed to cheer you up, when this week has the officially most depressing day of the year? Needless to say: I was caught up in it!
A look out of my window inspired the thought of rather looking at old pictures...

I was on the wrong side of the moon, had tried to cheat the sandman and all that during the worst week of the year. Well, I'm owner of a website called Incredible Ladies: So gal, show your skill, what's your remedies? There are loads of other articles out there offering solutions, but we are supposed to be different - oh, well...

It might help to look at old pictures, or to dwell a bit in the past which you always could try to do by reading back through the site diaries, or having a look at the Change Log where I keep track of old editions - well, that would at least make me happier, not sure if it would lift your mood, though. Chances are good however, that it would help to look at somebody else's pictures if this somebody is really good at taking them.

A more pricey solution is to book a holiday. I am in the lucky position to having my annual mother/daughter week at Fuerteventura to look forward to, and in comparing the weather here and there I thought that would make a good picture of the week.

And, did it all help? There I was, Monday 18th January morning and on an all time low...
This brave little thing made it through the frost by clinging to some fellow greeneries.

... and the remedy was something completely else. Which brings me to my favourite subject: Finding and having a passion! And although I thought I wouldn't be able to hack a single straight word into this keyboard, I sat down and just started to write about this silly little morning. The outcome might not be the wittiest of my columns, but adding my favourite pastime to the nice encounters I had to write about, I felt better afterwards and the day did pick up, as did the rest of the week.

So off I went just now to prove that if one eventually manages to open the puffy eyes, one can find cheery things like the single little purple flower in the front garden, or the bright red one thriving in the conservatory.
I now leave you with a quote that is said to be phrased by Joseph Campbell, a scholar whose philosophy according to Wikipedia is often summarised as "Follow your bliss":
Life is not a problem to be solved, but a mystery to be lived!
So long darlings, have a good week!
Love


Back to Top
---

14th January - Videos, Blogs and more new things

So, it's still winter then! Hmmm! Getting a bit bored of the snow now. All winter I had been chickening out from driving, but now enough is enough. Tomorrow I am going to claim my freedom back!

It looked so pretty when it was still fresh, but now that most of it has thawed away, the appeal is somewhat lost.

So it's time to concentrate on the weeks ahead. First thing I have to let you know is that we will have to pick up the Afternoon Teas as well as the powerwalking for the Ipswich Ladies from the 12th February.
Powerwalking is still too dangerous due to icy patches on the pavement, and the country route will be all soggy and obstructed by broken shrubs and trees. Well, and as for the Afternoon Tea - I will be on my way to Fuerteventura for one week from the 30th, leaving on Friday 29th evening. I will see you on 12th February then, to consolidate the January and February date into one, and to brag about my wonderful week off! Gosh, the half year outlook already brings us to July: Time to think about the summer holidays...
Next thing on the agenda are my video plans. I received an email from YouTube saying that the 'Basic Tummy Exercises' video is so successful that I am eligible for placing adds next to it, which might provide some revenue at one point. Well, that sounds good to me. I have to admit that generally I am not a big fan of adverts, but it is amazing how opinions change, as soon as money is involved, isn't it? So I thought: I am going to apply for that thing (if they don't approve, it will be taken off, though - hence getting a bit nervous now) and should at one point be money coming out of it, this will go straight to 'Orangutan Land Trust'.
In order to enhance the whole video business and to make it more interesting I have created a new playlist on YouTube, called 'Live and Let Live' or 'L3' which I would like to use as a blog. So no comment approval - you can talk about stuff between yourselves and I am hoping that I can inspire some interesting discussions. So far this playlist contains some of the old videos (sport and recipe) and two new ones. One is an Intro explaining the purpose of the playlist and the other one is about how to lose 100 calories. Some cooking classes are in planning and because I would like to avoid blabbing too much - as I usually do - I wrote a few things down, explaining why it is good to know 'How to Kitchen'.
I am really hoping that I can make this video channel quite successful. It would raise the profile of IL by adding a blog feature to it, and it would be a wonderfully effortless contribution to our charity.
As a sideline to the environmental charities I now added a support advert link to the IL front-page. It is for Raw Wildlife Encounters. I will as well publish their newsletters, so that you can see how they are progressing in their conservation efforts, and since I am determined to do the trip beginning 2011 there will be a travel report at some point. Raw Wildlife Encounters is not a charity, but has high conservation standards and is working together with and supporting the founders of BOS UK and Orangutan Land Trust.
So far an interesting start into 2010 and I hope your first steps have been turning out to be successful. I at least can say that my fish pond is working well, with the waterfall still feeding the little stream, keeping a bit of the surface open, and providing a frosty bathtub for the birds.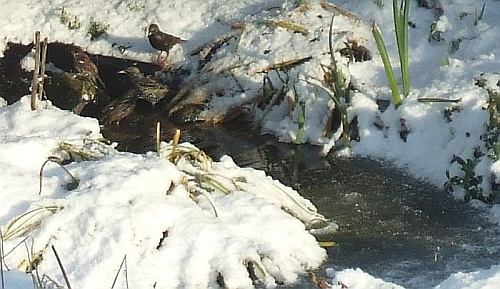 I know that a few of you have had rather big changes towards the end of last year, from getting job and family issues sorted to fulfilling some personal dreams and subscribing to some races beginning of this year. One of you told me: 'I am taking my midlife crisis, I have a list and I tick it off one by one. It's brilliant!'
Yes, it is! Keep it going girl! And to all of you who not yet have reached the age for a midlife crisis: Don't bother, do a list anyway!
I'm leaving you on that high note,
until next week
Always yours
Rika
xx

Back to Top
---

7th January - There we are!
Another year another game. We could play it same ol' - same ol', but there must be some little bits and pieces we may want to change, or improve, or progress towards...
Well, the weather clearly has its own ideas of being inspiring. All this snow and frost is surely different from the usual, and it throws contradicting emotions into our laps. On one hand it is beautiful and revives childhood dreams, on the other it is incredibly challenging and we wish it would go away.
Hmmm, maybe it is a wonderful metaphor telling us that we should take on a challenge so we can enjoy those childhood dreams. Maybe we should use the opportunity of being stuck in the house to re-think a few things; how we budget, how we dress, how we educate our children, the jobs we have, the time we spend for things we don't like doing...

The economy as well has own ideas of how the game should be played. Wherever I look, people are wrapping up, taking sabbatical or golden handshakes and are re-organising their lives. They are moving across half the world for a new job, change from industry to academics, or, like my best German friend, get their own business. Some are made to re-think because they lost their jobs. Where I work, they - luckily - get reassigned to new jobs, what nevertheless is a shock. There are however a few who took this as an opportunity and discovered skills they didn't know about before.

... brrrr!
I am not a resolution kind of girl, but this is the first New Year that I am thinking about them - not the silly ones - I mean serious things I want to achieve. Doesn't have to all happen in this year; for some things a year is not enough time. But I want to lay the groundwork. Those last months of 2009 were weird and I felt a bit like in a bubble, but now that 2010 has arrived the head seems to become clear again, giving me my Eureka moment.
For this year I am wishing you that you will stay healthy or become healthier than you were last year, that you will be able to resolve a few sticky things from the past, and that you will be able to lay the groundwork for a few new things.
Let 2010 be solid and reliable, let it be remembered as 'The year we got things done!'
Always yours!
Rika
xx