MySecretKitchen Food Tasting Dinner
7th May 2010, 9 people
Waiting for nine guests to arrive

Last weeks MySecretKitchen food tasting party coincided with me watching three series of Heston Blumenthal's fantastic feasts. See, I was a bit in a quandary with this party: I am known for my food, and if I invite people to something that has the word 'food' in the title, then they - rightly so - expect more than cheese and crackers.

Lyna, our consultant presenting the products however, was worried that people would get the impression that this is how a standard tasting would have to take place, and hence nobody would want to host another party for her.
So this is the moment to explain to everybody who would like to host a MySecretKitchen tasting: The only reason that this party happened the way it did, is because of my own vanity and concern of my reputation as a hostess. If you would like to just get to know the products - which are really gorgeous, and my guests did not buy because they felt group pressured but because the greed for more had taken the better of them - so if you were interested in hosting a party:
Everything is possible!
... from not providing any food items at all, to a dinner like mine. Usually the host would provide some apple slices or crudities, while cheese bites are already a quite elaborate offering. So how much you would provide is entirely up to you and to be discussed with your consultant. If you are interested and living in the Suffolk area best get in touch via the website and then ask for Lyna.
So I had been planning to extend the items used to taste the products into a proper dinner. There was only one way in which I could see this work: To have loads of courses (we had eight).

And then, again, there are two options - either give everybody a plate and put platters in the middle of the table to share, or decorate individual plates. Well, thanks to my inspired mode I mainly went for the latter. I hoped that the kind of food presentation would elevate it from a 'tasting event' to a 'dinner'.

The second starter: Mozzarella cheese, basil and tomato dressed with garlic mash, balsamic vinegar, olive oil, pepper, salt and basil aside MySecretKitchen plain beer bread
And I am proud to say that my guests called it a feast!
Everything spiked onto the apple was cold, the rice chicken and mushrooms were warm.

The first course was baby spinach and rocket leaves topped with thin parmesan slices, olive oil, and MySecretKitchen Balsamic Reduction for everybody to share from a platter. This was served together with the MySecretKitchen wholegrain beer bread.

Lyna introduced the Oak smoked rapeseed oil to dip the bread in or to sprinkle over the salad. Oh my goodness, I am not a fan of smoky flavour but that stuff is brilliant!
The second course was the mozzarella cheese, tomato platter as shown in the picture above, and then came the main course. The vegetables were just steamed and at room temperature, as were the boulettes (fried meatballs). The prawns were tossed in garlic infused olive oil and served at room temperature as well, while the soy sauce/olive oil marinated chicken breast was kept in tin foil after frying and re-heated for 30 seconds in the microwave before serving.
All the items only had very basic flavouring to allow a lot of tasting space for what was to come:

Jumping Jack Chilli Jam
It's onion, it's flavour... it worked fantastically with the meat balls and will with sausages.

Miso Dressing
It goes really well with vegetables, and although for me it doesn't have a wow! factor, some of my guests went bonkers for it.

The vegetarian plate, with warm broccoli
Self harvest potatoes and lettuce

Red Pepper cheese ball mix
This was mixed in - I believe it was Philadelphia cheese - and completely amazed me. I tried it at another party I was invited to, it was presented as cheese balls and I didn't like it at all. This time we used it as dip on vegetables and meat, and that did the trick. Together with the chicken it was just divine.
Thai Dressing with Kaffir Lime
Imola had the same experience with this one. At the previous party I loved how the flavours run around the mouth ending in this fresh lime taste, while she didn't like it. This time she tried it with the prawns and I heard a mumble from across the table: 'Hmm, this stuff is growing on me'.

Additionally we had spiced pepper and salt grinders which will add very interesting flavours to any dish.

Moving on to the cheese board. Well, I tried to create a planet cheese where cheese flowers of cheddar and goats cheese are growing from the hills and glass tree houses are home to brie and goats cheese triangles.

My planet has lush cress meadows which can be harvested with the scissors provided, and the time of the day is sunrise as one can clearly see.
Why else should there be shortbread suns shining over the mountains and why else should the tree houses be risinng from golden tequila sunrise?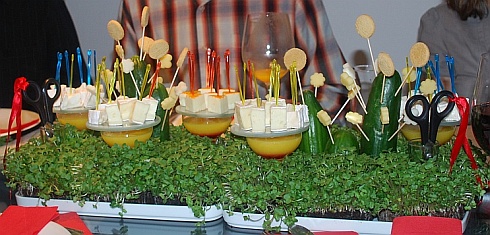 Thanks to my Heston Blumenthal inspiration I clearly had an 80's cocktail party theme going, and the Balsamic Reduction which we used for the first salad course worked wonderfully with the cheese scheme as well. The hit however, and the main reason to present a cheese course was the Fig Pudding Pickle. I had ordered a jar at the previous tasting which didn't survive long in my fridge, and really doesn't go well with my sport efforts. Thus I had promised myself NOT to buy another one, and then hubby stabbed a knife into my back and ordered it himself. How am I to resist?
By that time my guests were in a really inspired mood, and not only because they got to drink the cocktails.

Lyna did a brilliant job and rather delivered an entertaining show than a food lecture while giving me enough time to prepare the platters for the next course.

We knew that anticipation for dessert would run high by that time and had decided to go for the same approach like we did with the starter: Having two of them.

Well, as I said: Liquids are tricky and I definitely need to practice my presentation skill!
While Lyna introduced the award winning Maple Caramel Sauce with apple slices, I prepared the main desert: Vanilla ice cream (amazingly the best is from Lidl - soft and really nice in flavour), the Maple Caramel Sauce again - which does not change consistency to something hard-ish when getting cold - and a wonderful piece of Chocolate Brownie provided by Lyna.
After that, I have to admit, we lost track of taking photos - we were in a food frenzy. Dessert was followed by coffee with Moccachino Biscotti and then the last course was fruit and Mango Mojito Desert Sauce as dip, accompanied by Chocaberry Cheese Balls. And those really did close a circle. My 80s time warp theme got underlined by that flavour. I still don't know of what it reminds me, but it definitely is a sweet childhood memory.
And that was it:
The MySecretKitchen 80's inspired food tasting dinner!
---
The MySecretKitchen products at a glance:
I am happy to promote these products on Incredible Ladies, because they are neat and clean, and procuded to high standards. I am a fan of cooking from scratch in order to know what's in it. These products are very cleverly made from simple lists of ingredients. So they are a great alternative to add a bit of inspiration and interest to the kitchen while paying respect to the principles of responsible food.
Nutrition and Recipes
General Nutrition
Shedding Fat
The Big Sugar Experiment
Let's Get Started
Ration Rule of Thumb

How2Kitchen Videos
Preface
My Basic Kitchen Setup
Hot Chocolate

Recipes
Hot Chocolate
Cosmic Coconut Macaroons
Sudorific Chicken Soup
Quirky Cough Syrup
Quark - Quickie
Rika's Raclette
Salacious Butternut Squash
Frivolous Fruit
Weird Cheesecake - II
Prawn Indulgence
Voluptuous Lettuce
Flavoured Olive Oil
Weird Cheesecake
Wicked Chicken Bun


Supplements
Iron
Vit C
Omega 3

Events
MySecretKitchen Dinner Party