Rika's Raclette - 2009 New Years Dinner

For dinner parties like at New Years Eve one wants to have something that takes a bit of time, is fun, gives room for a lot of chatting, is easily prepared well in time before the guests are due to come, and doesn't cost a fortune. So Raclette is what you need! The Raclette oven doesn't have to cost the world. At Lidl they had one the other day for 25 quid.
A similar thing is Fondue, which most of you might know already. It comes as cheese fondue which often ends in upset stomachs, broth fondue which usually a bit bland and oil fondue which as the broth fondue is very much based on meat - hence expensive.
Raclette on the other hand is very versatile and it allows every guest to choose the food which they like most, but it still encourages outrageous experiments.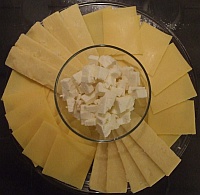 The Schedule
for a party starting at 7:30PM

A few days before
Decide on what you will put on offer
There are a few 'Must Haves' like:
Chicken breast, marinated in Soy Sauce and fried
Salmon filet without skin and bones, fresh, in thin slices
Prawns - big or small
Potatoes, small
Rice
Pasta
some veg - I like broccoli and green beans
cheese - raclette is rather expensive, I usually buy sliced Edam and Gouda and then either grate a or slice some Cheddar. But every cheese that melts is alright.
cheese sauce from cheese spread with nutmeg
garlic butter, bought or made from butter, olive oil, garlic, dill and chives
baguette
spices, e.g. Kalonji, sesame seed, dry basil, coriander, fresh chilli, garlic, ginger
onions, finely sliced
and a few things that are not essential but make it nice, and since I usually cannot decide what to have - I have it all:
pineapple bits, from the can
sweet corn, from the can
mushrooms, fresh and sliced
pickles - I like cornichons
olives
feta cheese
tomatoes
tomato sauce, jar or cooked from scratch
cranberry sauce
and whatever else comes to mind
Most of the stuff keeps quite a while, so buy it whenever you do your regular shopping and when you find special offers. Chicken and fish you can freeze and Lidl is always a good source for frozen salmon and prawns, cranberry sauce, pickles and cheese.
Find bowls and glasses and cutlery for the food
Thanks to the raclette oven and the additional saucer per person there is not a lot of space on the table, so you may want to choose rather tall containers. I used drinks glasses for the sweet corn, the pineapples and the pickles and left the olives in their jars. Rather dish out smaller portions and keep spare things in the kitchen to fetch later.
There are a lot of little spoons and forks needed as serving cutlery. If you don't have enough get plastic ones.

Two days before
Defrost the chicken
In case you froze the chicken put it into the fridge to defrost.

The day before
Check that you have everything
Except of bread. You will want to have that fresh.
Marinate the chicken
Mix a good cup of olive oil with a quarter of a cup of dark soy sauce, add a bit of ground coriander and black pepper. Cut all the ugly bits from the chicken breast and let it marinate in the fridge for 12 to 24 hours.
Peel and slice the mushrooms
Best and less boring when done during a good movie. Don't wash! They will take in too much water and will taste bland. Except if you buy very fresh 'button' or 'close cup' mushrooms. Usually they are not fresh enough for washing and the heads can be peeled off. Check the stems, if they are darker in colour than the head and watery then remove them. Slice and put into a container, cover with a sheet of damp kitchen roll, cover air tight and keep in the fridge.
Defrost the Salmon
In case you have frozen Salmon put it into the fridge to defrost.
Get the butter out of the fridge keep at room temperature

The morning of the day
Prepare the dinning room
Get the extension lead for the raclette oven, and see that it works, tidy up bits and pieces and see for space to put the drinks.
Lay the table
What's done is done. When the table is laid you can cheat everything else should you be running out of time. Have the guests a drink and nibbles while you do finishing touches in the kitchen, nobody will know.
For convenience you might want to provide a small saucer each for the hot frying pan.
Put the drinks into the fridge
Buy the bread

Around lunchtime
Start the food preparation
Make the garlic butter:

chop fresh chives and dill,
mix 250g butter with half a cup of olive oil (if butter to hard put in microwave for 30 seconds),
mash 1-2 cloves of garlic
mix and put into small containers to dot around the table, for easy access
cover and put into fridge

Boil the potatoes (with skin, saves time and who doesn't like it can peel themselves), steam the broccoli, cook the pasta (cool down under cold water quickly, so they don't get sticky), cook the rice.
Meanwhile put the straight forward things like sweetcorn, pickles, pineapples, mushrooms into the chosen container, cover and keep cold.

Put the pasta and the rice in bowls, cover with kitchen roll and put into a cool place to entirely cool down. Don't use cling film for warm-ish stuff, it makes it go soggy.

Use a bigger bowl to put potatoes, broccoli and beans together. There will be a lot of handing food round going on. This way people have the veg bit in one go.
Fill small containers like egg cups for spices, chopped fresh chilli, ginger and garlic

Peel and finely slice the onion. Keep covered that stuff stinks through the whole house.

Prepare a cheese platter in cutting the slices to match the size of the pans

Slice the salmon into thin squares 1 by 1 inch. It doesn't need to be pre-cooked as it will cook quickly in the raclette oven. Put in a bowl, cover and keep in the fridge
Put shrimps into bowl. If frozen, defrost under cold water, dry thoroughly on kitchen roll.

Prepare the cheese sauce:

for 7 people I used 3 of 250g cups of cheese spread - the Lidl one is the creamiest
add a big clove of garlic, mashed,
some nutmeg
and a bit of milk
pop into the microwave for 2 minutes and whisk
Fry the chicken:

Heat (no oil) a big frying pan on full power
put the marinated chicken breast in and let fry until brown
turn over and then reduce heat to half
prepare a tin foil shiny side up
whenever a chicken slice is finished (on pressing with a fork it feels hard) put onto the tin foil and cover
when all the chicken is done keep in the foil
Clean up your kitchen
Get yourself ready
No need to take a big shower - after a raclette dinner one stinks a bit like a stir fry take away. So tell your guests to dress casually and in clothes which are machine washable.

Around 7PM
Slice the bread
Bring the drinks in
Finish the cheese sauce
Open one side of the chicken tin foil and let the juice run into the cheese sauce. Mix in and heat again in the Microwave.
Slice the chicken into stripes to fit the little pans
Let's get the party started
Choose the chair next to the kitchen for yourself
When your guests arrive, offer some drinks and show them their chair. While they get themselves seated bring in the goodies.
Ask them to pass around the stuff so they can take whatever they like for their cooking experiments.
In the meantime throw a few slices of bread on the oven for roasting - it's delicious with the garlic butter.
Explain that raclette works best if things are first cooked on top of the oven like on a hob and then the grill is used to bake the cheese - however, there is only one rule:
Have fun with experiments!