Voluptuous Lettuce

Recipes suitable for:
Main meals for 2
Starters for 4
I love to invent recipes and those lettuce arrangements are irresistable. In case your kids don't like them, pretend that they are only for grown-ups anyway and protect your plate with your life. From those flavours they may come round to it very quickly - well, and wanting to be grown-up might help a bit!
The lettuce is whatever lettuce you like, really. I prefer the stronger nuttier flavours like rocket, lamb lettuce, watercress mixed with spinach leaves, Lollo Rosso or Romaine lettuce. But milder varieties work as well.

I only use Extra Virgin Olive Oil and the vinegars are white and red Balsamico. It's all I have. If you have oils and vinegars you prefer - give it a shot. If that's the flavours you like and are used to the dish will adapt.

The amounts of olive oil and vinegar are estimates. Please adjust freely as you go along. For me it depends on the weather and my mood how sour or slippery I like it.

So far the recipe comes in three versions:

Variations:

Pasta & Feta Cheese in Balsamic Dressing

Again, the pasta is whatever you like. I discovered corn pasta recently and love it - and they are of a nice yellow colour.

With a stronger lettuce whole wheat pasta are nice, while a standard white flower pasta makes a more subtle dish together with mild lettuce. You even could do it with Ravioli or Tortellini, but be aware of the added calories.

I use dried pasta as I always have them in the house, but of course you can use an equivalent amount of fresh pasta.

fast
15-20 Minutes
easy/versatile

Shopping

2 mugs (150g dry) pasta
250g Feta cheese (from ewes milk)
tomatoes
lettuce
1 onion (preferably red)
fresh Basil (pot on the window sill)
6 tbsp olive oil (or more if you like it)
1-2 tsp flavoured oil otherwise add a bit of pepper and ground coriander
2-3 tbsp red balsamic vinegar (or more if you like it)

Preparation

Wash the lettuce and strain well
Mix the dressing from oil, vinegar, spices, roughly ripped basil leaves
Add the chunkily chopped onion, chopped tomatoes and chopped Feta cheese and stir.

Finish
If you are having it with guests keep the lettuce and mix covered at room temperature until they arrive. If you have to prepare it very early and have to put it into the fridge, get it out at least an hour earlier for it to warm up a bit. Although tomatoes might lose a bit of the flavour in the fridge. Once everybody is there:
Put on the kettle for the pasta and add them to the boiling water (use salt only if you really have to)


Place the lettuce on a big plate


Once the Pasta are ready, strain them and add them hot to the mix and stir in quickly. They are supposed to melt the outside of the Feta cheese a bit.
Place in the middle of the salad base and serve.
Enjoy!
Variation
Using just very few tortellini or ravioli per person, this makes a great first course for 4 people. As this type of pasta doesn't mix in very well for warming up the mix you can put it into the Microwave for 1 minute and then stir before gently mixing it with the pasta.

Back to Top
---

Potato & Shrimp in Sweet Chilli Sauce

I like the baby or Charlotte potatoes, but any potato you like will do. I keep them with the skin but that is not essential, although healthy. I cook potatoes in the microwave. Microwave pot, potatoes and 1/2" (1 cm) water, 6-10 mins highest setting (depending on amount and power). After half the time move them a bit around and test them.

The prawns I  usually use are peeled, pre-cooked and frozen. This way I always have some in the house. But you can use any of those sea creatures. There are those thingies with the tails on. You might want to give those a try if you like. They look decorative - are a bit trickyer to eat, though.

Again the topping is a bit luke warm, thus makes it a great starter for guests if you divide the portion by 4.

fast
20-25 Minutes
easy/versatile

Shopping

2 good cups of prawns
potatoes (depending on hunger)
lettuce
1 onion (preferably red)
fresh Basil (pot on the window sill)
1-2 clove of garlic
fresh ginger
8 tbs olive oil (or more if you like it)
1-2 tsp flavoured oil (if you have and like)
1/2 tsp ground coriander
2-3 tbsp sweet Chilli sauce
lemon juice (bottle to keep in fridge)


Preparation
Wash the lettuce and strain well
Mix 6 tbsp of oil, the flavoured oil, ground coriander, thinly sliced onion and roughly ripped basil leaves
Finely chop the ginger and the garlic and keep them in separate piles
Wash the potatoes and prepare them for cooking.
Defrost/wash the prawns under cold water and strain well

Finish
If you want to have it for guests keep the lettuce, prawns (fridge), chopped garlic/ginger and the mix covered. When the guests arrive start cooking the potatoes (use hot water when cooking on the hob).
When the potatoes are almost done:
Arrange the lettuce into a nest on a big plate.
Heat the rest of the oil in a frying pan on medium heat.
Add the ginger first stir, then
add the garlic and stir.
If you like, add a bit of coriander powder and briefly fry,
then add the prawns and mix.
Reduce heat and stir in the Chilli sauce and
add some lemon juice to taste.
Quickly half/quarter (depending on size) the potatoes, add to the onion-basol mix and put it into the nest of lettuce.
Stir the prawns and put on top of the potatoes.
Enjoy!
For a vegetarian version use a yellow and a red pepper and a handful of small broccoli roses instead of the prawns. Do as above, instead of preparing prawns:
Remove the seeds of the peppers and slice them.
Pre-cook the broccoli in the microwave for a 2 minutes (the moisture from washing is enough to steam them) or steam them until almost done.
When the peppers are still a bit crisp add the broccoli and the Chilli sauce. By the time the rest is finished they are done as well.
Version 2 - Potato Salad (veg)
This is a great addition to a BBQ. Leave out the lettuce and the prawn/veggy topping. Just create it as a potato salad adding some broccoli about 3/4 of the amount of potato you are using. Basically basil, onion, broccoli should be about the same volume as the potatoes.
Prepare the onion/basil mix as above,
add flavoured oil or a bit of chilli powder.
Steam/boil potatoes as above.
Steam small broccoli roses.
Mix it all together still warm.
Serve warm or keep at room temperature.

Back to Top
---

Bulgur & Chicken in Orange Dressing

It's a shame that this one is more time consuming than the others, because it is my favourite.

The bulgur is soaked and not cooked, thus it's 'al dente'.

The chicken is best if marinated for a while, the red pepper is best if smoked, and the mushrooms need a bit of attention as well. However this is a brilliant dish for guests as everything can be prepared and final touches are done in a jiffy.

And for vegetarians you just leave the chicken away and give them a bit more mushroom and peppers. If you want to be generous, then steam a few broccoli flowers to put on top.

Needs time
start: 4 hours before
final touches: 15 Minutes

Shopping

2 chicken breasts
1 cup of bulgur
lettuce
1 red pepper
250 g mushrooms
1-2 onion (preferably red)
1-2 clove of garlic
1 Orange
5-6 tbsp olive oil
3 tbs white balsamic vinegar
1/2 tsp ground coriander (fresh if available)
pepper
salt
1 tsp Cajun spice
1 tsp sweet red pepper powder

Preparation
4 - 5 hours before:
cover the bulgur in water with a good 1/2" (1cm) water above the bulgur
2 hours before:
Mix 3-4 tbsp olive oil with Cajun spice and red pepper powder
slice the chicken breast and mix with the marinade
keep covered in the fridge
prepare the dressing

juice of 1 orange
2 tbsp olive oil
3 tbsp white Balsamic vinegar (increase amount to taste)
pepper
salt
ground coriander
garlic mashed

wash and strain the bulgur carefully and mix with the dressing.
keep covered for another 2 hours, stir after 1 hour.
When you have time:
Wash the lettuce and strain well
Peel the mushrooms. I have a rule of thumb. If the peel of the head comes off easily they get peeled, whether they are closed or not. From the base I cut off a few millimeters. If the base is hollow I remove it. This way I don't have to wash them. Mushrooms take on water very quickly, if you have to wash them do this quick and briefly and strain well.
Cut them in thin slices
Peel the onion, and
slice half of it thinly to get nice crescent shaped slices to decorate the salad leaves
the other half cut into chunky bits
roast the pepper either over an open flame of the hob (+1 minute of Microwave at the end) or under the grill.
take off the black peel carefully
remove the seeds and slice it into long stripes (keep at room temperature)
Keep everything covered until you are ready to go.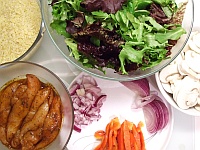 Finish
15 minutes before:
heat a frying pan (dry)
put in the chicken slices and fry on full heat until golden
switch down the heat to 1/2 power and turn them over
prepare a sheet of tin foil, shiny side up
---
Keep an eye on the chicken. It is done when on pressing it down with the back of a fork it feels solid. Take them out of the pan as they get done and wrap them im the tin
when the pan is empty add the chopped onions and glaze them, if it burns too much add a bit of water and stir, adjust the heat,
add the mushrooms and stir them in
stir from time to time
---
Meanwhile:

Place the lettuce on the plate and
stir the bulgur and place in the middle
drape the sliced onion and the smoked pepper strips around it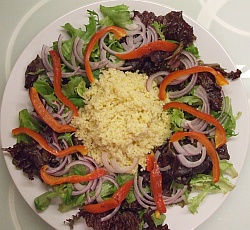 When

the mushrooms are done open the chicken parcel at one end and pour the juice into the mushrooms and stir
put them on top of the bulgur
drape the chicken strips around it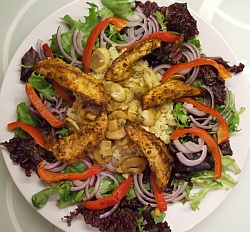 Same as above.
Instead of oil and spices mix oil and 2 tbsp of dark soy sauce to marinade the chicken.
Same as above.
Arrange steamed broccoli on top of the plate instead of chicken
If you want to do both versions in one go, take some of the mushrooms out and put it on the veggy plates before you add the juice to from the chicken.

Back to Top
---
Nutrition and Recipes
General Nutrition
Shedding Fat
The Big Sugar Experiment
Let's Get Started
Ration Rule of Thumb

How2Kitchen Videos
Preface
My Basic Kitchen Setup
Hot Chocolate

Recipes
Hot Chocolate
Cosmic Coconut Macaroons
Sudorific Chicken Soup
Quirky Cough Syrup
Quark - Quickie
Rika's Raclette
Salacious Butternut Squash
Frivolous Fruit
Weird Cheesecake - II
Prawn Indulgence
Voluptuous Lettuce
Flavoured Olive Oil
Weird Cheesecake
Wicked Chicken Bun


Supplements
Iron
Vit C
Omega 3

Events
MySecretKitchen Dinner Party