Race for Life - Cambridge, 1st June 2008

On Sunday first June me and a befriended couple went to Cambridge to see the run there and to hopefully find a member of the Incredible Ladies team.
But as you will see in the movie: It's just too many people and it's like a fun fair. So we didn't find her, but Motoko my friend got really excited about it. She couldn't join this years team firstly, because she was not sure if she would have to work and secondly, because there is always this little bit of threshold to get over to actually do it. However, in taking in the atmosphere at Jesus Green she would have loved to jump in straight away.
Even I, who had encountered it last year was a bit worried about 'having to perform' again. But the Cambridge event has put me on ease. The movie is rather long and it is not happening a lot. However, I kept it this way to show you the huge numbers of women joining into this and that despite the weather there were quite a few people to cheer.

Stories
Meeting Rajang&Tiga
Articles
How to Charity?!
Environmental Charities
Adopt an Orang 4 X-mas
Incredible Stories -Michelle
Raw Wildlife Encounters
---



---


---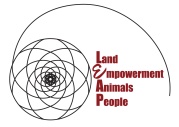 ---

---


related links:
Articles
Environmental Overview
Blog on Palm Oil issues
Controversial palm oil plan ...
Great Ape Debate, Apr 09

Videos
The Palm Oil Pronlem
Willie Smits on Rainforest
Jane Goodall:Living Together...

Eco-Tourism
Raw Wildlife Encouters



---

The Healthy Ones




Race for Life 2009
RfL Diary & more
Incredible Ladies Team

Race for Life 2008
First Impressions
RfL Picnic
RfL Diary
Incredible Ladies Team
BT Today Article

---

Other Intersting Ones
Mongol Rally
A friend's ride in 2008