Race for Life 2009


The Diary
Visit the gallery to see more pictures!

16th July 2009 - Ipswich South Event in the sun
Oh yes, Imola and Aleks had lovely sunshine just not too hot for a good run. Well on top of it all: Suffolk Showground is all flat and even. How unfair is that? Ah, they are so sweet ladies - they deserve their luck, and we definitely had fun.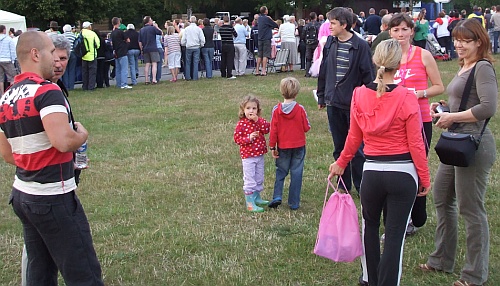 And here is the video of Aleks' and Imola's run:

It amazes me every time again how many women are attending these events - and all of them have a story to tell!
Here it were 2500 and all the other events throughout England are about this size. What a great thing to be part of!

8th June 2009 - Ipswich North Event in the rain
Oh My, some of the weather Gods didn't like us and somehow Imola's rain dance didn't work either. Probably Hungary is too far away to reach the Ipswich weather machine. And it was cold: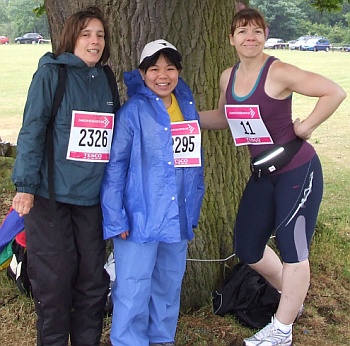 Well the plan was to go without a jacket, but once the picture was taken I chickened out and put it back on:
Big mistake!
The wet jacket kept me nicely cold, after 2k I started sweating so I would have been fine without a jacket.
Well, it would have been a bit of a wet T-shirt contest, though.
Unfortunately we missed Iwona and Sandra in all this hassle, so they went on their own and hence they are not on the picture. We met Iwona later, but I couldn't get hold of the picture her boyfriend took yet. I will have to deliver that later.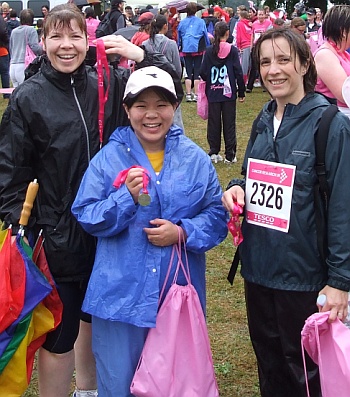 So there was no picnic in the park, but a lovely after party at my house, where we chomped ourselves through piles of food. I had planned for sandwiches and now the toppings of those became either canapé or we popped them into a frying pan and added some Tikka sauce.
Yummy!
And we deserved it so much!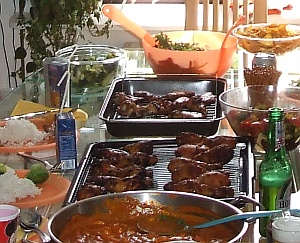 Next up is Imola's turn on 8th July at the Ipswich South event. After that we will do the final money count - hoping I didn't miss-count with all the small change - and then we will see if we managed to at least hit the £1000!
Until then... keep sponsoring and keep collecting :o)



Back to Top

To Activities

To Diary

To Team

To Money


4th June - Count-down is on
We have our picnic place allocated, and now it is all down to the weather Gods. Like last year the prediction is bad.
According to Wikipedia there is a recurring meteorological weather phenomenon around 11th of June that in Germany is called 'Sheeps-cold'. Northwesterly cold humid air is drifting into Europe causing temperature drops of up to 10 degrees which can become harmful to the then already sheared sheep.
So cross fingers that it won't hit us. However, should the picnic go down the drain we will all meet at my house after we have refreshed and will party a bit!
So hope to see you either way!



Back to Top

To Activities

To Diary

To Team

To Money


28th May - Oh oh
Well, only one and a half weeks to go to the main event and it looks as if we have no chance of making our targets - neither in numbers of team members nor in money. We are still four members and about a thousand pounds short and I somehow have a hunch that we won't be able to remedy that within the next 10 days. Luckily this year we can stretch the fundraising period a bit longer, though. Imola and with a bit of luck a hopefully soon new team member will be attending the run on 8th July. So we will have to see what we can achive by then.
So keep it up ladies!
Join the team, either for the 7th June, Ipswich Nort or for the 8th July Ipswich South, and help beat the credit crunch and do some serious fundraising for the team via their fundraising pages.



Back to Top

To Activities

To Diary

To Team

To Money


12 March 2009 - First Steps
As usual the first month is a bit slow and it is still enough time to go. I remember now that two years ago it was rather wise to start slow because of Red Nose Day. This is such a huge thing that one doesn't want to interfere. So I am collecting our pennies, and I am asking people to feed the green little piggy with small change for the sweets they take from the jar.
And since today the first team member is on board. Imola is going to do the run on 8th July at Trinity Park, Ipswich. And of course we will go there and cheer. I am hoping that we will find some more ladies to join her there. I know that some of you prefer running in the evening and when the weather is more reliable, and some might just like the location better. Well, and you still can come to the picnic at Chantry Park on the 8th June.
So yes we are getting there. This week Red Nose Day is over and then we can crank it up a bit.
Hope to talk to you soon!



Back to Top

To Activities

To Diary

To Team

To Money


12th February 2009 - Kick Starting the Season
I bombarded poor Gemma (organiser of the Ipswich North run) with one of my infamous 3 miles long email, and am now hoping that she is not bummed and pulling back.
For the party I would love us to be next to the old tree again.

I quite liked that place, and I am hoping to be allowed to go there very early with the car to unload. Would be brilliant if we could have a gazebo for the picnic.

Last year we got lucky and it was sunny, although we had trouble finding shade for the kids.
Well, and I remember that we were 'really' in luck because the night before it had been gushing down. Would be nice to be a bit more independant from the weather. And for comfort of food display: I have a folding table already.
So it all depends a bit on what is logistically possible.
For now I have pencilled down everything that was on my mind and it would be lovely if you would start thinking about entering the races and to let me know your links for the fund rasing pages, should you set up one. I know it's still some time to go, but time is flying...



Back to Top

To Activities

To Diary

To Team

To Money


22nd January 2009
If I were asked to name one thing that I learned from last year's event I would have to say:
We need fund-raising events!
In fund-raising there are two challenges:
Getting old sponsors interested again
Winning new ones over
When I did Race for Life the first time, a lot of my friends and colleagues still remembered me as a chubbier and frumpier person. My first timer enthusiasm was contagious and so I managed to draw a lot of money, even from friends and family abroad, although they didn't really understand the concept of RfL and the benefits of Cancer Research UK as involved in a global research community.
The next year I was facing two hiccups. Firstly, the team members were my friends who had sponsored me the first time round and who now wouldn't necessarily do so anymore, but raise money of their own... and secondly, to get my sponsors of the previous year excited again. They now knew that I can run 5K - So where was the challenge? What was I actually doing for the money I was asking for?
For 2008 I could turn the wheel round in having a team for the first time. I told them about my idea of having IL teams running all over England one day, that my dream is to be the one who can mobilise the biggest team that has ever run for Race for Life.
I am honoured to see that they are trusting that I can do that. They sponsored me again and their trust gave my confidence a big boost to go out there and to ask people who I barely knew to sponsor me - and they did!
And in talking to all these friendly people I learned what they like, I learned that they enjoy these little home made fund raisers. So we will have them!
I already have at least three ideas, but they are still a bit half-baked, need some work and I have to talk to a few people first. Will keep you posted!

... and
We need an IL-RfL uniform!
Oh I have loads of ideas but no clue on how to make them real on the non-existing budget we are running. Race for Life has a lot of merchandise, but since we want the brand to be 'Incredible Ladies running for Race for Life' the matter is not so straight forward. We have to match pink and turquoise and no logo should overwhelm the other.
We want to be sportive but witty, it has to suit every shape, and to look gorgeous and outstanding. Last year I was wearing a silly pink bow in my hair. This stupid little thing is instantly visible in any picture and movie. We basically want to achieve this effect without looking too silly.
So I think this will need a bit of time until the first team members are recruited and we can do a bit of brainstorming together. However, any idea is appreciated! Anybody working in fashion and wanting to do something good and fun? Get in touch via rika@incredible-ladies.com!



Back to Top

To Activities

To Diary

To Team

To Money




Our Activities



Many a little makes a mickle!
Pennies are the sort of money which can become a bit of a nuisance. They are heavy and break the sturdiest of purses, one never takes the time to actually pay something with them and one is lucky to have kids collecting them, until they start realising that they are not worth a lot.
However, if collected big style they can make quite a difference!
I started to ask people for their pennies right after the 2008 Race for Life and I was given a few whole bags full by dear colleagues, some even containing a few silverlings which I now collect in a separate jar.
This is the first bag full I got:

Doesn't look that much, does it? This is almost worth £8, though.
Only today our team member Imola gave me a whole jar of several years of family penny savings.

Strarting with a small bowl...

Now we have a whopping

2 liters

=

8 kg

of them!

That is
1.26 stone,

worth
£25.45.

... I am now getting worried that the big one might break soon.
The bowl can hold 12 liters - given it doesn't break - making an estimated
£150!
So...
If you have pennies - I want them!
and...
... please start collecting pennies from friends and family...
I want those too!



I have a seond bowl holding the silverlings which I found between the pennies. This has become now the home for all sorts of earnings.
Meanwhile I am selling almost everything for Race for Life that is not nailed down. E.g. I had some brand new garments turning out to be a little bit of a miss buy - utterly embarrassed now. They suited a friend just fine and she insisted on paying - so that went into the bowl.
Then I am having a sweets corner in the office - one wouldn't think that hard working gentlemen can have such a sweet tooth. Well, little green piggy who already collected some money for us last year is doing a great job again and the guys are busily contributing.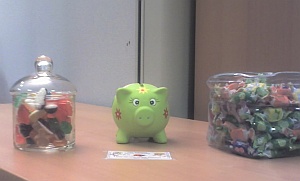 I am planning for an office after lunch cake sale a bit closer to the race day.
So...
... if you have similar ideas: Let me know, so I can write about it!
.... if you have an idea for a fundraising event
and want me to help planning and executing it:
You know where to find me: rika@incredible-ladies.com
No idea is too silly or too big.



Back to Top

To Activities

To Diary

To Team

To Money


Picnic Location
We have a new tree! Since this year we have the option of building a gazebo we needed to get a bit more out of the way of the runners and last year's tree was too close to the course. So no we will be underneath a beautiful big Oak tree!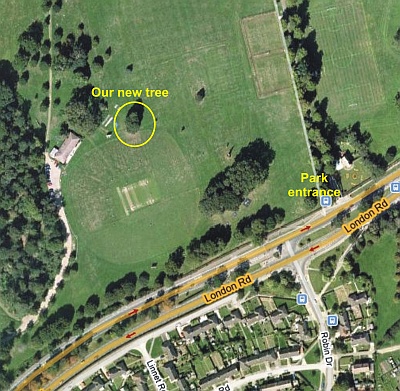 I am hoping to see you all there!
The park is ready for visitors to arrive from 9AM. There will be some speeches from race officials 10:30, the official warm up from 10:45, and the run will start at 11AM.
The families of the team members will have the task to set up the picnic while we ladies do our bit, and start the party with together with the hopefully plentiful visitors of our gang!



Back to Top

To Activities

To Diary

To Team

To Money