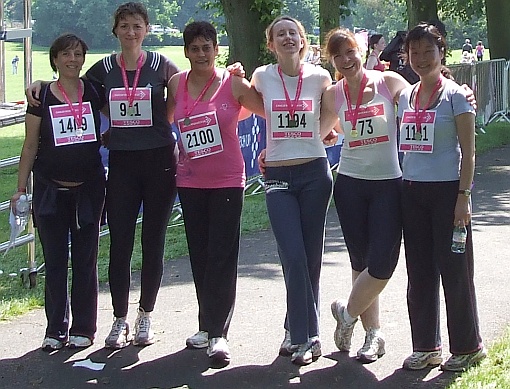 It has happened! I just came home from the run and the picnic and it was brilliant.
We got so lucky! The two days before the rain it had been gushing down from the sky without a break - and now look at the picture: 'Incredible Ladies Luck'!
Please have a look at the page I quickly put together to give you first impressions. I will gather many more pictures the others have taken and create a more elaborate page.
And of course I will let you know on how we did in regard to the fundraising!
For now I know that we smashed our target of £930!
I don't know by how much exactly, and if we will get to the £1000 which would be a much nicer number..., wouldn't it?
One thing is for sure, though:
We all loved it so much that we will go on fundraising and do our best to get there. So it's not over yet, you still can visit our fundraising pages and donate!

Back to Top
---



Only 3 weeks to go
We need your sponsorship by
7th June!

Fund Raising
Please, please, please... All of you out there reading this:
We need your help!
Brest cancer is not just somthing happening in the UK. It just happens that we all live here to collect money for a first class research unit.
These people won't keep for themselvels what they find out, their efforts will help women all over the world.
So please,
go to our team members page,
choose any one (or all :) of us
and click the link to get to the sponsorship page.
All you need is a credit card and you can spend either
as little as
£2
(4.26 Australian dollars, 6.65 Brazilian real, 30.99 Hong Kong dollars, 643.33 Hungarian forints, 159.53 Indian rupees, 29.14 Moroccan dirhams, 2.54 Euros, 414 Japanese yen, 8.72 Polish Zloty, 3.98 US dollars, ...)
or the sky is the limit!

18th May 2008

Back to Top
---

Race for Life 2008 - We Are On!
It's end of January and I just got the email that new Race for Life season has started and that the site is open for registration.
The date I am after is the one at
Ipswich
Sunday 8th June
11 AM
I already have set up my fund-raising page as from last years experience I learned that this is a really good thing to do. That's where I collected most of the money as people from abroad can easily contribute - and it avoids the running after the money after the race.
When setting up the page there is a yellow text box labelled 'Team Member'; there I inserted 'Incredible Ladies'.
If you would do the same and send me an email saying that you have registered, then I would check from time to time and give an update on how we are doing as a team to hopefully inspire a few more people to sponsor us.
I would be so happy and honoured if Incredible Ladies teams would pop up all over the UK. I will be on holidays this week, and when I'm back I will update you on a few ideas I have on how we can make this a lot of fun. I gather that the 'IL-Planning Mischief' section could benefit quite a bit from this. If you have any ideas - please let me know. This is still brainstorming, everything (however silly it might appear) is allowed. So please drop me a line!
That's it for now, I will get in touch again when I'm back next week.
Love
Rika
31st January 2008

Back to Top
---

Brainstorming for the Race for Life Season 2008
I have been trying to get in contact with an organiser of Race for Life since a while to discuss the ideas I have, in order to take the term 'Race for Life team' to the next level.
Here is what moves my mind since a while - further ideas are welcome, we are in the brainstorming phase now and thus any blurb is allowed and appreciated:
We either can try to build an Incredible Ladies team to be the biggest team that ever took part at Race for Life. This Race would probably have to take place close to Ipswich, because here I have the most personal contacts,
or...
we could build Incredible Ladies teams all over UK, and I would travel round and run with them, hopefully supported by the one or the other lady from other locations and having a nice after-party as well,
or both.
Now I found a contact, and she promised to find out for us how big the biggest team so far was, and if it is possible to run more than once in a season.
Then she told me that on the 4th February the new race season will be launched, so we will know the dates by then. So brace yourselves: In two month time I will start nagging you to take part. Actually, come to think of it: I'm doing it right now!
You can run or walk! It's all about the money and the good deed, and not about the performance. February is that time of the year where everybody want's to get back into shape for summer. So that's your opportunity to add a bit of walking or running to your life!
Enjoy the Turkeys and the Christmas Puddings without regret - because you have a plan for the next year ... and it even is for a good cause!
5th December 2007