2007/2008
---
12 June, Seckford Hall Golf Club - Fashion Show
Nicky and Sue owners of the combined boutiques nyx and Holly Blue have been organising a fashion show taking place during Seckford Hall's golf week.

I love their stuff, they already have done several fashion shows, and I haven't seen any of them. That's not good, is it?

So off I went early to get a bit of the 'setting up the show' - vibes. In the end I came home with more than 2 hours of video footage and loads of pictures to work through.

And eventually I made it to get a video cut to give you an impression.

8th June 2008 - Race for Life - Ipswich, Chantry Park
The concept of having a picnic wrapped around the Race for Life worked out although it was rather risky in regard to the weather. We just went for it and it was a glorious day.
Please find the story here!

1st June 2008 - Race for Life - Cambridge
Motoko, husband Du and I set off to Cambridge in the morning at 9. My dear husband was enjoying a conference abroad so that I had the big Volvo for my convenience.
| | | |
| --- | --- | --- |
| | | One might want to keep in mind that I usually drive a left hand drive Punto and only had practice with the Volvo for 3 days when we went. |
So the two trusted my ability to change to a car twice the size and - for me - the steering wheel on the wrong side and off we went for a pleasant ride along the motorway.
We had planned for staying at the Park and Ride in Cambridge, however the weather was not nice and it turned out that my passengers had lived in Cambridge for four years. Thus we decided to drive into the parking garage bang in the middle of town and the nice new shopping centre called Grand Arcade. One never knows if something big is to be bought and then it is just better to have the car close by, isn't it?
Well, what I didn't know was that the parking garage had a very steep ramp at the beginning leading into a never ending as steep spiral.
This is the two of them still laughing and alive at the run, proving that we got into a parking space without any damage and harm.

When I told Detlef over the phone he was very impressed. Now we have the problem that I want to keep the Volvo for myself, or at least want to have a similar vehicle. But that is a different story...
We then went to Jesus Green to see the start of the run and despite the cold and drizzly weather the atmosphere was just great. Motoko got all excited and definitely will join the team next year, given her work schedule allows it. Have a look at the video to catch a glimpse.
There were so many people around that we didn't see Jen at the start and due to the cold we decided not to stay to the end. Given that I have to be fit on the 8th for the Ipswich run I didn't want to risk a sore throat.
So off we went to Nandos for a chicken meal and then split up for a bit of shopping. When we caught up again over a coffee the two sweethearts had the next challenge for me. They had revisited their old shops and had found a 20kg bag of rice for a bargain price. My lovely Volvo made it out of the parking garage and then into the student quarters of Cambridge. Sunday afternoon and life was buzzing: bikes, cars, people - and no parking space. So side street, yellow double line, we girls waiting while Du got the rice.
Getting out! The advice Du had: Best is to turn round... ROUND? BACKWARDS? 3-POINT-TURN? Oh well, we don't have proof of how elegantly I coped, but I'm sitting here typing and the pic of the car is from today. Must have done something right then.
So yes, we had a lot of fun, I got a bit of nice chocolate from Hotel Chocolat for Detlef - although, fell into one of the packs myself, accidentally of course! Motoko and Du have rice for the rest of the year and for the rest of it: We decided to go again! Probably when the weather is nicer. We could even do some punting.

Cineworld Cinema
Accidental Husband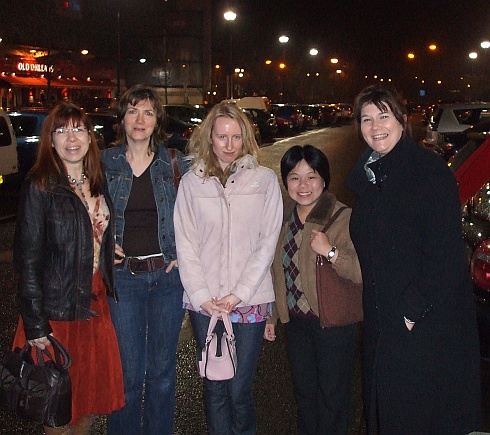 This had been one of the ideas we had been working on at the pub. When going to the movies with dear husband I used to ask: I wonder what might be up those stairs? Response: Don't know!
I really should make him read 'You just can't understand' from Deborah Tannen.
However, the ladies promised to teach me how to go to the movies properly. And he then was such a sweetheart offering to give us a lift so that we wouldn't have to look for parking space, having the additional advantage that he could take a picture. So he is forgiven.
At that time we already had lost one of the ladies who came to see us for the bar chat bit. The movie was a bit too silly for her - well, it was - but watchable as Imola pointed out.
We came for the chat anyway. Eventually I made it up those stairs, and it is nice up there - and the cappuccino is good!
So, yes! We girls had a good time, and we definitely will be back!



Pub Visit
Lord Nelson
Some of you might think going to the pub is not such a big deal - well, I went to one twice and as ladies without male company the pub should be well chosen.

Lord Nelson was recommended by a male friend and it is perfectly fine for a group of ladies. A lot of couples and people coming for a meal rather then getting drunk. So that was nice.

Well and I learned a lot. Having grown up in a German pub one of the first things I learned was to drink from a bottle properly, leaving this little hole on the top for air to get in!
Now Iwona had ordered a Corona and right in front of my nose they put a bottle with a slice of lemon wedged in. Not only that for a German the thought of beer together with lemon is a bit odd... how on earth is one supposed to drink that?The lemon slice very skillfully got pushed and shaped by Iwona until she just could drink through it having to develop a rather unique 'bottle to mouth' technique.Very interesting!However, we had a lovely evening and came up with two new ideas for the nearer future!


Back to Top
---
Restaurant Visit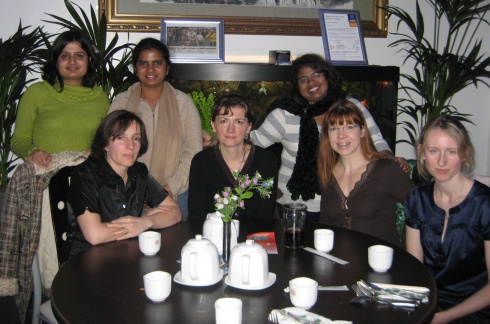 This time it were 7 of us enjoying a night out. We got lucky with a nice and cosy corner table next to some lovely fishtanks and close to the buffet. The place is really big and sitting in the middle could have felt a bit cantine-like. But this way it was brilliant.
The buffet offers a great choice and once you leave the table for another go you old plate gets taken away instantly. And keep a bit of space for the desert buffet. The fruit and ice creams are delicious!


Back to Top
---

Restaurant Visit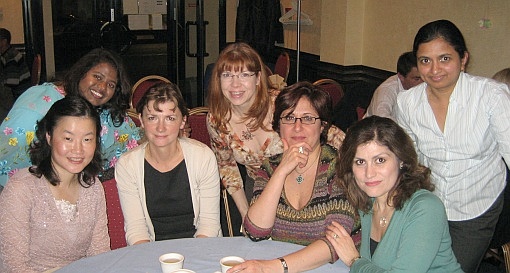 We had such a lovely evening, although it started with a little hiccup.

It was the evening of the bonfire night, what one of us luckily realised in time to take measures. That night the entire Ipswich parking space is exhausted and parking further away is not the best of ideas when you are walking towards the red light district - the one that was in the news only one year ago for the murder of 5 young women.

Hong Kong Palace is a nice rather big place, but unfortunately at the edge of this area and rather close as well to the fireworks venue.

So Faisa's hubby dropped her and Sonal, while the others got dropped of by my hubby. If you looking closely - it's five of us plus hubby.

All the ladies reading this, working in some kind of law enforcement - please be kind to us - we squeezed with four in the back. Poor hubby, driving very safely with 5 giggling ladies.

However: Kudos to our husbands - you are the best!

Well and then we enjoyed the meal, got to know each other as I was the only one to know them all, me nagging a bit - as usual - for stories to be written (and I think I may have found a new contributor - YaY!) and just having a nice evening.

And we came up with some ideas for further mischief, a list which, I have to admit, I extended a bit by stuff I personally would like to do.


Back to Top
---